Do women earn less money than men?  As a general matter, the answer can only be "yes,on average, women make less than their male counterparts."  A gender pay gap does exist.
Consider the first line of a recent Wall Street Journal article by Janet Adamy and Paul Overberg: "On average, American women earn less than their male peers. Highly educated women fare worst of all."
One need only look at this graphic to understand the depth of the gender pay gap.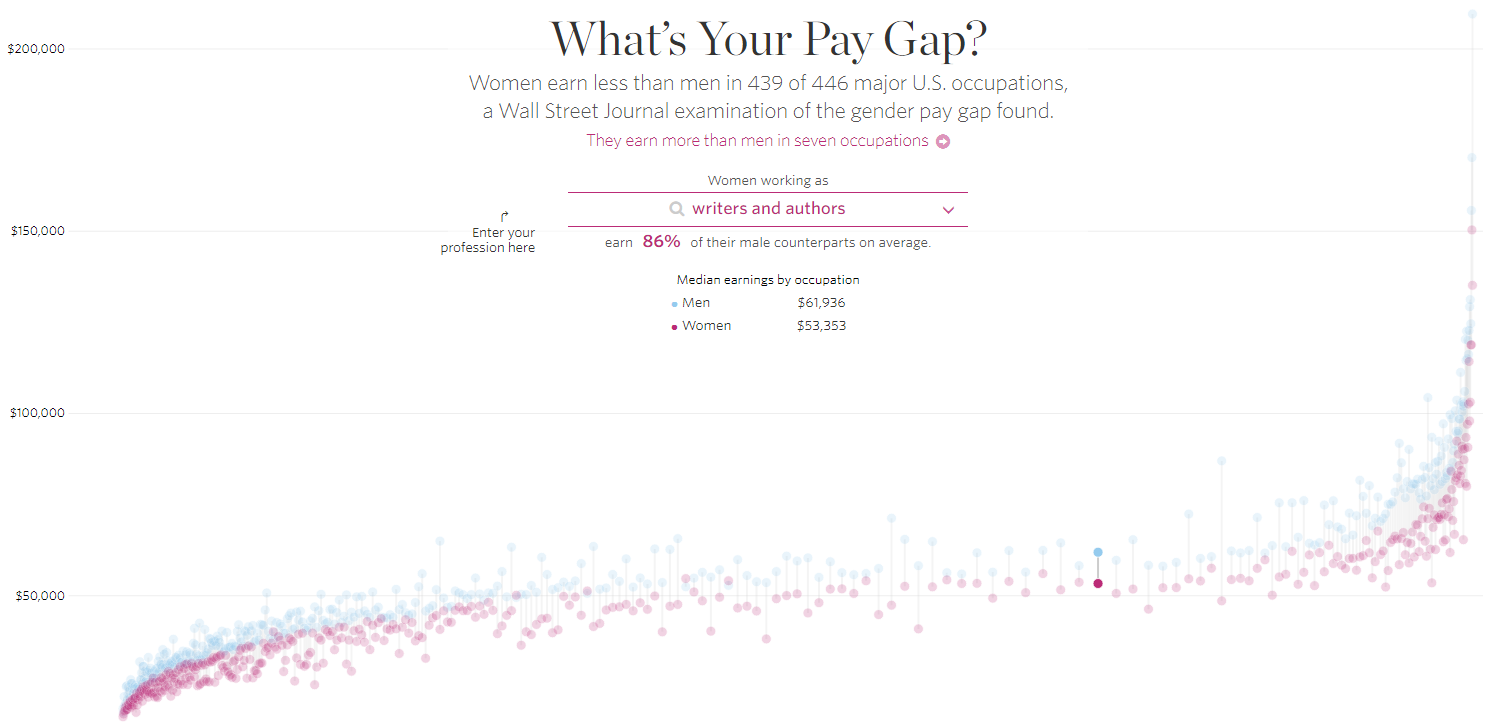 Out of 446 categories of "occupation," women earn less than men in 439 of them.  An alternative way to state the obvious: 98.5% of the time, men make more than women.  For example, in the above interactive chart we chose the occupation of "writers and authors." For that occupation cohort group, women only earn 86% of the cold hard cash that their male counterparts earn.  Trust us, the writing and content business is brutal!
Notwithstanding these average differences, we admit there are qualifiers that should be addressed. Much of the gender pay gap data has significant adjustment errors or is presented in overly simplistic terms.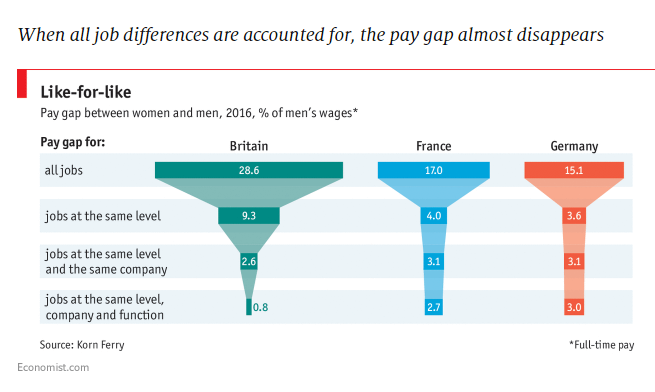 There are loads of academic papers on the issue.  Those papers tend to get the statistics right and paint a more nuanced picture of the gender pay gap.  The Economist recently published a very good article showing the distinction between averages based upon ill-defined cohort groups and gender pay gap data based upon strictly defined cohort groups.  Therefore, a dispassionate observer could away with an answer of "it depends."
Kind of, but not really…
Clearly we are not social scientists or demographic economists.  Yet, we feel we have a voice on the issue of gender pay gap.  Putting aside the nuances of the statistics, our argument is that equal pay for an equal job is the basis of non-discrimination.  It is the hallmark of an equilibrium between the genders.  It is the one completely objective way to measure how society distinguishes between genders.  And, hopefully that distinction is non-existent when it comes to pay.
At the end of the day, even a 2% difference of pay between men and women, doing the same occupation, at the same company, with the same corporate title, and the same functional title, is utterly horrendous.  This is especially insulting when you consider that the gender pay gap has only recently been equalized (kind of…, sometimes…, some places).  And, a lot of that equalization has been under the threat of penalty.
There remains work to be done on the gender pay gap – just our (not so humble) opinions.
Sincerely,