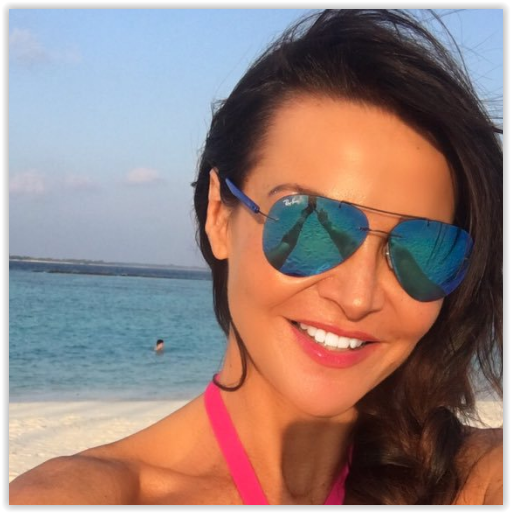 Lizzie Cundy (Instagram: @lizziecundy) is so much more than just a renowned TV presenter, radio host, advisor and commentator on fashion and beauty issues, red carpet reporter, and reality TV star.  Actually, it would be impossible to be more than all of those things, as they present an amazing package. In her own words, Lizzie tells us about growing up and how she developed her amazing flair for fashion and beauty. This is Lizzie's Beauty Story!
Growing up, I got into makeup and the concept of beauty relatively early.  I loved the TV series Charlie's Angels.  My father was a director at the advertising and media group Saatchi & Saatchi and as part of his job he took me along to a Charlie's Angels shoot.  I got to see and meet Jaclyn Smith and thought "wow!"  I saw her being transformed on the set through her makeup and I wanted to embrace that idea right then and there.
I've met a lot of beautiful people, on the red carpet scene and in everyday life.  No doubt, beauty comes from within, but without a smile a person can't really be beautiful.  A smile reflects a person's inner beauty.  Without it, you cannot be a warm person, which is not beautiful. 
My mum was a model.  She was definitely beautiful.  She helped instill in me the idea that you never know whom you shall meet outside of the house and therefore you should always do your best to look as good as you can at all times.  Looking good also gives people confidence.  It's as if the outside reflects back to the inside and that's how people can feel beautiful.  Looking good creates that confidence to feel beautiful. 
My beauty routine focuses first on my skin.  I feel the strong need to look after my skin.  After all, I am on TV competing with the likes of 20-year-olds!  Always, always, always, cleanse your face by washing with water and then applying eye cream and an eye serum.  Another trick I have is to use cold or frozen spoons – put them under your eyes for half a minute and you'll see an improvement in your tired eyes.
One beauty trend that I'm trying right now is contouring.  It really can change someone's looks if done properly.  Sometimes it is "over the top," but is almost always an interesting result.  It does take time to get used to it and your makeup artist should be top-notch. 
If I was stuck on a desert island and could only have one beauty product, it would have to be lip gloss.  I just need a bit of moisture on my lips.  I think NARS has some excellent lip products.  Also, one of my absolute favorite brands for all beauty products is Charlotte Tilbury.  Her products are excellent. 
This article was originally published on March 1, 2017.