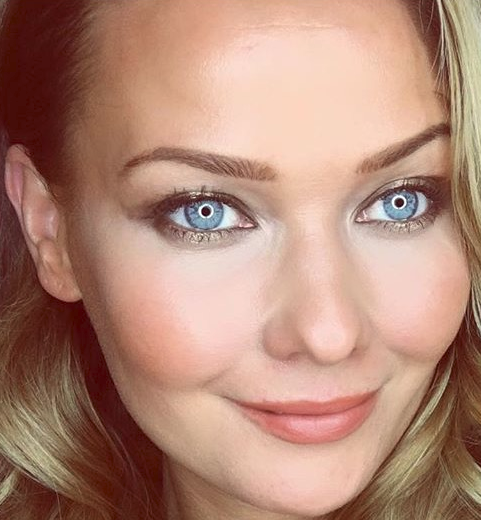 If you follow the beauty industry on Instagram, it's more than likely you have come across a post by Viola Riste (previously @violariste and now @viola.veganbeauty). Viola Riste has had a varied career in beauty – as a model, business owner, and perhaps most importantly as a practitioner.  She started as a makeup artist and then co-created the beauty app Map My Beauty as well as all of its video tutorials.  Now, Viola is focused on bringing a vegan ethos to the world of beauty.  As a mother, animal lover and someone who consistently wears makeup her desire to influence animal testing and the use of animal products in beauty is genuine.  Her ability to make a difference is also real. This is the beauty story of Viola Riste.
I have been interested about beauty and makeup for as long as I can remember.  I originally learned the art of the human face from my grandfather who was an artist.  I studied to be a professional hair stylist and makeup artist.  I always saw hair and makeup through art.  It's amazing to see how the right shade of lip gloss can light up your eye color or how blush can make you look fresh and healthy.
I think beauty comes from the inside.  It's in your eyes, your smile and your confidence. Makeup is just a tool to show that inner glam outside.  I have seen the power of makeup with multiple women.  I have had clients feeling unattractive and having low self-confidence.  With just little makeup to emphasize their best features they come alive. They smile and laugh and feel beautiful.  Their inside beauty comes through.  I think makeup should never been worn to hide something – it should be tool to bring something out.
I think beauty comes from the inside.  Being unique, being positive, loving your flaws – that's a personal look that no one else has.  That's real beauty.  I love wrinkles around eyes – it tells me that person laughs a lot.  It saddens me that some beauty trends attempt to hide unique features or simply make the wearer young looking.
My beauty regimen is not just about washing my face in the evening or how I apply makeup.  First it comes from my lifestyle.  I mostly eat healthy vegan food, try to sleep 7-8 hours every night and try not to stress too much.  It doesn't help to put ton of makeup on your face if you only eat junk food and live a stressful, unhappy life.  Like I said, beauty always comes from the inside.
I don't have a beauty icon.  There are so many stories behind many beautiful people so it's impossible to choose one person as someone I look up to in the beauty industry.  There are simply too many beautiful and courageous people.
I usually don't follow beauty trends too much.  Most of the trends have been there before and you just need to know which ones might work for you.  My best beauty tip is to find your best feature and then think about how to emphasize that.  And, eat healthy, clean food too!
If I was stuck on a desert island and could only have one beauty product it would be coconut oil.  I always have a bottle in the kitchen and another in the bathroom.  I clean and moisturize my skin with it daily (FYI…, it's a perfect product to clean waterproof mascara).  It is also great product to give little highlight and gloss over makeup.  I love beauty products that are so natural you could eat them.
Vegan beauty from the inside out!