Dayanne Costa has an important story to tell.  It's that with the right amount of courage and determination, you can accomplish a lot in life.  It's that by believing in yourself – your looks, your beauty, your smarts and your abilities – you can and should dream big.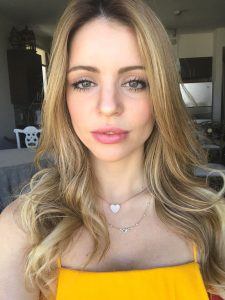 Dayanne's story starts in her native country of Brazil.  After graduating from college she moved to America for work, not knowing anyone or even speaking a basic level of English.  After years of putting one step in front of another, she has been rewarded for all of her hard work.  Now Dayanne is a top-producing real estate broker in Manhattan where she specializes in the sale of townhouses with Compass.
Being in front of clients on a daily basis means that Dayanne strives to look her best.  Her goal is a professional look that highlights her best features.  "I think that beauty, the definition of beauty, is taking care of yourself and highlighting your best features.  In my daily beauty routine, I use both pharmacy and luxury brand beauty products.
The first step for me is always to wash my face with soap and water.  I love the Dr. Brandt Skincare Beauty Sleep Serum and I use a vitamin C hydration cream.  Then I apply foundation.  I prefer the MAKE UP FOR EVER matte finish foundation.  Sometimes I use a powder as well and I like the Smashbox Contour Kit.  It's an amazing product.  It's like you photoshopped your face.  If I have a lot of time, I might apply the Urban Decay Naked Illuminating Shimmering Powder.
To finish off my beauty routine, I usually apply blush, mascara and lipstick.  My two favorite lip products are Dior Addict Lip Glow Color Awakening Balm and NYX Matte Lipstick.  My beauty and product routines are all about balancing my time and wanting to enhance my features."
To learn more about Dayanne please see her Instagram feed @dayanne_vc