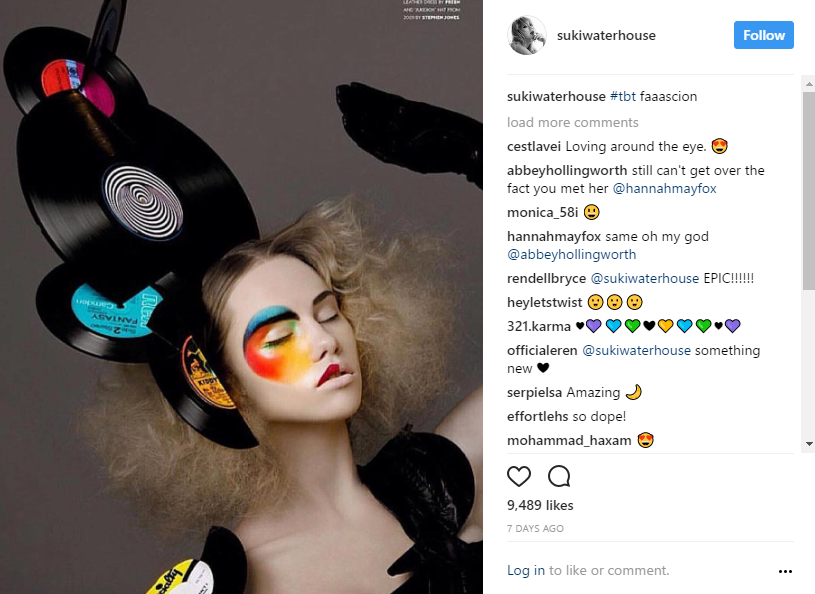 Wear LPs ("records") In Your Hair (Suki Waterhouse Instagram)
Why important/interesting: Suki Waterhouse is young.  You might be young like Suki Waterhouse and have no idea what those things in Suki's hair are.  What are those round, black things?  Are they device covers?  No, children, no Suki Waterhouse.  They are called "LP's" or "records" – "long play records" and apparently they have no more value for the music industry so they have been made functional by the beauty industry.  Of course….!  So children, buy "records" and wear them in your hair.  Good one.  It's the ultimate recycling!
Please Stop Doing Your Makeup on the Subway (New York Post)
Why important/interesting: CoverGirl, you go girl!  This is a really (REALLY) interesting study and social commentary that was done by CoverGirl.  Basically, they surveyed and interviewed a bunch of women about doing their makeup on the New York City Subway, after the MTA put up these (below) signs.

  Nice job MTA!  Actually, nice job CoverGirl.  As these ladies point out in a youtube video, putting on makeup in the subway may not be purposefully indelicate.  It is often a necessity for time maintenance issues.  It is for the viability of modern living.  It is all about Project PDA #ProjectPDA.  Good article, Molly Shea!
SNL Makeup Whiz Shares Transformation Tricks (Variety)
Why important/interesting: how do you transform Melissa McCarthy into Sean Spicer? You do it with a lot of makeup and a lot of make up artist expertise – all led by "Saturday Night Live" makeup department head Louie Zakarian!  He's being doing transformational makeup for SNL for 22 years.  Pay attention people.
Makeup Insta Stars Are Using Their Phones To Blend (Life & Style Magazine)
Why important/interesting: dumb as all hell.  Do you know how many germs your phone has?  Gazillions.  It would be better to use the toilet to spread and blend your makeup. When are we going to see Insta #MUA stars using someone else's cheeks to blend makeup on their client?  And we mean either set of cheeks?!?!
Erin Parsons Is Maybelline's New Global Makeup Artist (LA Times)
Why important/interesting: Erin Parsons is a first class makeup artist.  She rocks everything from edgy to classy on the faces of the red carpet crowd.  She is also Gigi Hadid's personal makeup artist.  Now, she has a great advisory spot with Maybelline.  This story by the LA Times got it right.  It's really a good read.
Daddy-Daughter Bonding Time – Doing Her Makeup (New York Post)
Why important/interesting: at first blush (…get the pun…?) we could say "ew." Or, "my dad would never do that!"  But why not?  Why shouldn't fathers feel a responsibility to understand what their daughters, wives and mothers do?  After all, societal pressure for women to look good and to wear makeup is at least 50% a male construct.  You want women, including your daughter, to look good and you think "looking good" means wearing makeup?  Well, then daddio, you ought to learn to to do some makeup!  We agree, Doree!
Desi Perkins' Makeup Storage (Popsugar)
Why important/interesting: if you like makeup and makeup artist Instagram stars, you'll at least know of Desi Perkins.  OMG does she have a massive makeup collection.  OK, big deal, you'd expect that.  It's the storage that's impressive.  I mean wow!  Talk about OCD storage!  There's even a video to go with it.