This is Nathalie's beauty story and we are lucky to be telling it!  Not only is she a student at Harvard where she is pursuing a doctoral degree in nutrition, but she's also the creative mind behind The Daily Ounce and the ride sharing app carpool.life.  Oh, and she's got a great beauty story to tell.  It goes like this… in her own words!
I remember watching my mother put on her makeup when I was too small to see above her vanity.  Staring up at her, I wanted to wear makeup too.  I used to sneak into her room, sit in her chair and pretend I was putting on eye shadow, mascara, you name it.  I was finally able to wear makeup at 16 and really enjoyed experimenting, from blue mascara to bright red nails.  I've learned to tone it down a bit since then, but sometimes I still overdo it!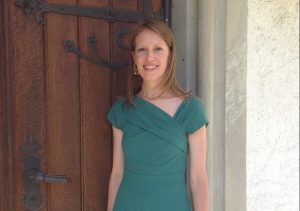 Beauty is quite subjective and while there are standards of beauty we can all agree on, there is also so much beauty in simple happiness.  My daughter is the most beautiful person in the world to me, and part of that is the beautiful smile on her face and her happy energy.  A smile is the best part of a beauty regimen.  I smile a lot, every time I see my daughter.  Another important component is a healthy diet, with lots of fruits and vegetables, yogurt, and few refined carbohydrates or sugars.  I found that my skin looked much, much better after I stopped eating bread several years ago.  I had rosacea and took several things out of my diet initially (sugar, wheat, dairy and meat), then I slowly added foods back in, one each week, until I figured out that bread was the culprit.  I also eat health oils from nuts, avocados and olive oil.
I really enjoy the art of applying makeup.  It's a nice creative outlet.  I enjoyed taking the time to do my makeup before I had my baby girl, but now that I have a 1-year old I no longer do my makeup regularly.  But when I take the time, I like to focus on my eyes.  I particularly like to do a "cat eye" with black eyeliner and lots of black mascara.  I also cover up my imperfections by using a light foundation and particularly like Chanel's Les Beiges Healthy Glow foundation.
My beauty regimen is simple these days.  I wash my face with First Aid Beauty Pure Skin Face Cleanser and then moisturize with First Aid Beauty Ultra Repair Cream.  FAB's products are great for my sensitive skin.  Plus they don't contain too many chemicals, which I have to be careful about because I'm pregnant and still nursing a little.  I also typically use an eye cream at morning and at night, but right now I'm avoiding them because those creams seem to have more chemicals.
I've also been trying to find just the right nude lipstick, but that's easier said than done.  I finally found Chanel's Rouge Coco lipstick in Adrienne #402.  It's perfect!  If I could only wear one product it would be mascara, definitely.  I'm blonde and without mascara I look like I'm missing eyelashes altogether!  I really like Lancome's Hypnose Drama Mascara (and Dior's Diorshow Maximizer 3D Triple Volume Pluming Lash Primer).
As far as my beauty icons, there are many beautiful women who could be named, but a woman who also works to improve the world around her is an icon to be emulated.  Audrey Hepburn survived World War II and the Nazi occupation of the Netherlands, just as my family did, and then went on to have a successful career both on screen and as a humanitarian, working for UNICEF.  Very inspiring, and she was distinctively beautiful.  My sister, Yvonne, may be the most beautiful of all.  She is the person I look to for beauty advice, and I love shopping for makeup with her!