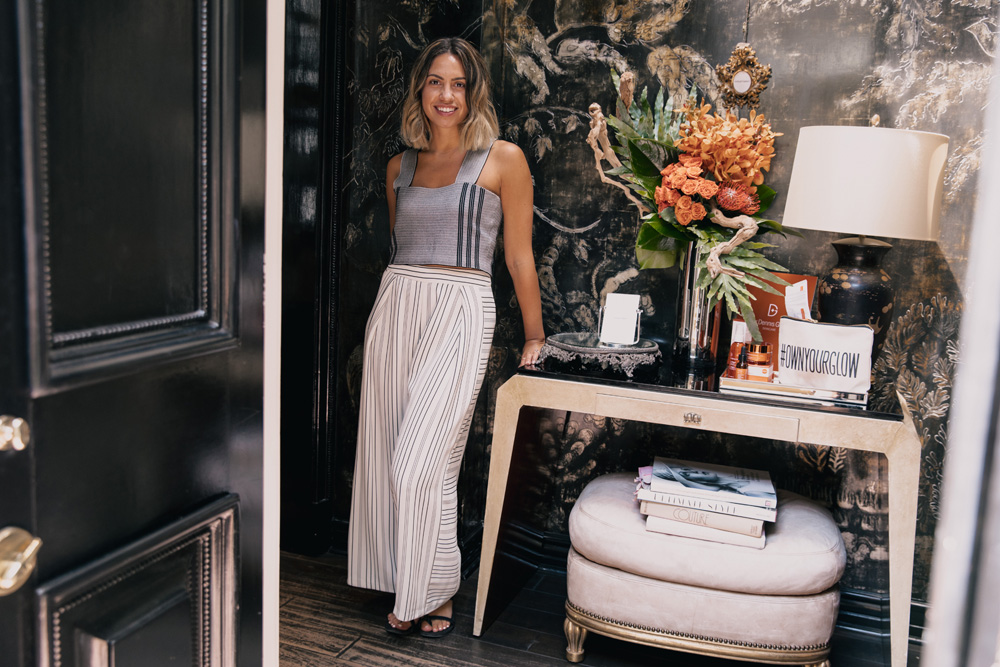 This is the beauty story of Melissa Sansone, a New Jersey girl gone to the big city of Manhattan to make her way in fashion and beauty communications.  Melissa started out working for renowned beauty agency, Paul Wilmot, where she handled accounts such as IMAN Cosmetics, Anastasia Beverley Hills, Too Faced, and Moulton Brown.  After that she was the Beauty Director at Karla Otto PR.  Now, Melissa Sansone is currently the Director, PR & Global Communications at Dr. Dennis Gross Skincare.  An admitted coffee snob and music festival lover, Melissa Sansone, is doing what she loves professionally – helping brands communicate and grow.  This is the Interview With A Successful Woman (#IWASW) of Melissa Sansone!
One of my earliest beauty memories is a small pink tube of bright fuchsia lipstick I had in my jewelry box.  I must have been seven years old.  It wasn't a typical twist up bullet shape.  You had to push a heart shaped dial to move the bullet in and out of the hot pink tube.  Also, Bonne Bell.  I had a million different flavors of those Lip Smackers!!!  LA Looks Hair gel was my one and only hair product – the crunchy gel of curly hair past. I shutter thinking about that now!  I remember countless play dates with my best friend painting our nails with outrageous Wet N Wild shades.   I had thick, coarse, untamed curly hair and I remember at age twelve my mom finally let me get my hair professional relaxed.  I will never forget that smell – anyone who had this done in the 90's remembers it – like rotten eggs and hair color.  I gag thinking about it to this day.
Looking back now, I guess I was always a "beauty girl," interested in the latest colors and styles and wondering how the products worked.  Especially in my teens when I had very bad acne.  I'll never forget Noxema or the small of OxyPads. I learned to read ingredient labels and how to treat my skin right from a very early age.  It's no surprise I ended up representing a dermatologist.
Beautiful to me is being confident and owning your look and style.  Whether that's big hair and purple lipstick or sleek looks and not a stitch of makeup, being confident in your looks is a beautiful thing. Beauty is also knowing how to take care of your body – both inside and out – and treating it well, fueling it with vitamins, exercise and a healthy dose of sleep.  Without this TLC the body takes a toll.  If I don't treat myself "right," I see it almost immediately in my skin.
My "body" regimen is exercise five times a week, a combo of yoga, barre and running, along with multiple products between my AM and PM skin routine.  I wear minimal makeup.  Usually, I wear concealer to eliminate redness or hide a pimple, bronzer for an instant glow, Anastasia's Brow Wiz and CocoButter for lips. When I take good care of my skin, I don't want a ton of makeup covering it up.  Also, I recently got a keratin treatment for my hair, so the frizz is totally gone.  A dream come true for me in dealing with hotter summer months.
Since I turned thirty my style has definitely changed.  I reach for neutral colors in my wardrobe with a rotating lineup of black, navy, white and grey.  It could be the stereotypical PR girl in me, but my mom thinks it's just me embracing the next chapter of growing older.  I am a big believer in splurging on investment pieces which are items I know I'll wear and love over the next decade.  My newest love is my Saint Laurent black leather wallet I bought in Paris earlier this year.  Every time I take it out of my purse it reminds me of the solo adventures I had while visiting that magical place. I also have a DVF leather jacket I bought for myself on my twenty fifth birthday. I wear it as often as I can.  I even wore it over my dress on my wedding day during our photos in central park. It's hands down my favorite item of clothing.
The two most beautiful people in my life are my mom and grandmother.  I feel blessed to have had both of them make such a powerful impact on my life, including my beauty and fashion choices.  I lived with both of them for many years and while they are night and day in terms of style, they both shaped who I am today.  I know my love for black and white was thanks to Grandma, while Mom's "just woke up like this" makeup look is reason for me to stick to my dedicated skin routine.
My favorite beauty product is the Dr Dennis Gross Alpha Beta Daily Peel.  Since joining the brand this peel treatment has literally transformed my skin.  I break out less often.  My skin is more even and clear.  My makeup will apply better.  It feels like I am ridding my skin of all the day's stresses when I apply this product.
If I was stuck on a desert island and could use only one beauty product, it would be Jungle Red lipstick by NARS because nothing screams confidence like a bold lip!  It would be easier to attract rescuers!