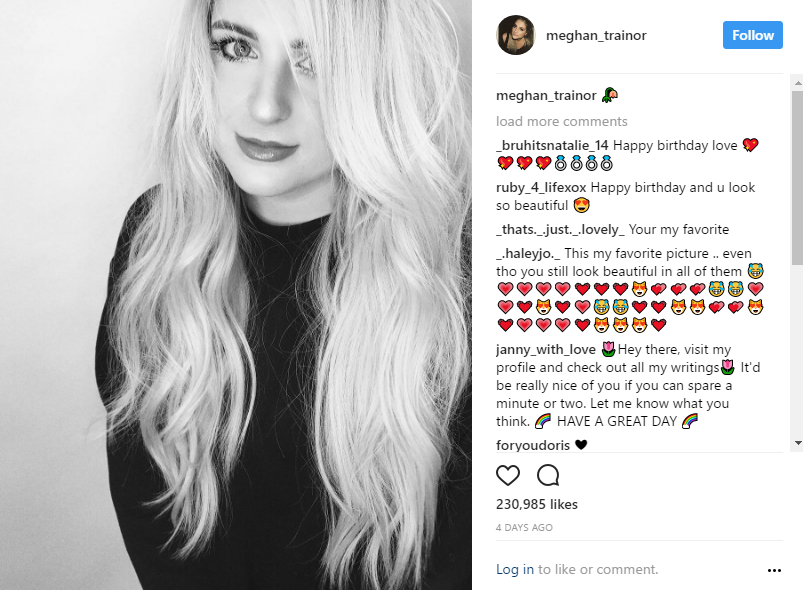 Meghan, oh Meghan we Adore (Meghan Trainor Instagram)
BEAUTY NEWS: because Meghan Trainor may just be the most influential, beautiful, and important person in empowering Gen Z girls and women right now.  Yes, her songs and lyrics contain a certain amount of sexy that might not be "right" for your 9 year old.  But, her songs are generally about being a strong woman.  And, she's an actual musician.  Unlike many of the pop stars (tarts) of today, MT was first a songwriter before being in the limelight herself.  She can also play instruments.  We like this picture she shared a couple days ago because its clearly a well-thought makeup combo but not overpowering.  We like it.  We share it.  Done preaching…
The Damaging Effects of Makeup On Teens (Fox News)
BEAUTY NEWS: the title of the story speaks for itself.  Be careful with your young ladies. Makeup has a hidden health issue – both the ingredients and the psychology of using it. This is important, mums and dads.
Inside the Makeup Routine of a Mermaid (Vogue)
BEAUTY NEWS: there's "waterproof" makeup and then there is mermaid proof makeup. The latter actually working as intended underwater (and presumably swimming after fish and having dinner with Tom Hanks…?).  This article has the info!
How I Used Makeup to Cope With Depression (Elite)
BEAUTY NEWS: depression can be horrendous.  Terrible and misunderstood.  Thus, any lightness for those in its grips is a great thing.  We always say that makeup can be empowering if used to highlight one's own beauty or as a transforming tool, but not to hide.  This article shows how makeup can help in creating a great distraction and giving just a little lightness where needed.
Is It a Good Idea To Wear Makeup While Sunbathing? (Metro)
BEAUTY NEWS: newsflash… your tan might be kind of askew if you wear makeup with sunbathing.  Presumably you are sunbathing to be in the sun.  Thus, your skin will develop a suntanned look.  Not so much if you past makeup on your eyes, lips and cheeks. Conversely, as this article points out, makeup might help block the sun and act as a sunscreen.
Behind the Scenes of Uber Hot Chaos Makeup (Allure)
BEAUTY NEWS: super hot makeup brand Chaos Makeup is definitely a hit.  Its products, known for their fun and changes and rainbows is a huge success right now.  More interesting is the story of its founding and its founder who was once a homeless teenager.
The 10 Best Makeup Brushes (Vogue UK)
BEAUTY NEWS: this is important stuff.  You can have the best makeup in the world and be the best #MUA ever, but if you're applying with a sh*tty brush, your makeup is going to suck.  This is a nice overview of what's good and what's out there in brush land.