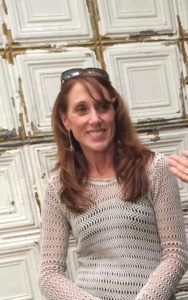 Maribeth Pyne is a beauty brand founder on a mission.  "My hope is to change the way women look at beauty."  That ethos is evident throughout the dome BEAUTY product line.  After a simple and loving childhood in the suburbs of Chicago, Maribeth got a college degree and then started to climb the corporate ladder.  Armed with a CPA qualification, Maribeth conquered the marketing and advertising world.  Never afraid to work hard, she was the CFO of a major ad agency before turning forty years old.  At that point she started dome BEAUTY – a new challenge, and a way to give the "idea of beauty" a proper perspective.   This is the Interview With a Successful Woman (#IWASW) of Maribeth Pyne. 
One of my earliest memories about makeup is mascara.  I remember being obsessed with mascara in high school.  I went to a catholic all-girls school.  While makeup was allowed, it was rarely worn.  I never left the house without mascara.  I also remember a friend of mine asking me if I was wearing false eyelashes!  Of course, I wasn't, but that mascara did the job.
I am still obsessed with mascara.  It's a must to have that perfect brush with an exceptional formula to get amazing results.  I spent months looking for the right brush and formula for dome BEAUTY.  I must say our mascara is the bomb!
I believe "beautiful" is a feeling.  When you feel special, unique, true to yourself, you will feel beautiful.  Everyone has special qualities that make them beautiful.  Generally, we all know our "good beauty qualities" and we are certainly hyper aware of our "problem areas."  I want women to look beyond their own physical appearance.  Instead, I want women to see the person in front of them – staring back at them in mirror.  That person is beautiful.  I want to celebrate that person and use makeup as a way of self-expression.
Over the past year I stopped cutting my hair which was a big change for me.  I love it.  It's super long and so much easier to manage my curly mane.  Just last week I had a toddler tell me I was beautiful and looked like a mermaid!  I'm sure this was because my hair is red like Disney's Little Mermaid.  It was so sweet to see that innocent association of beauty.  I also wear our dome BEAUTY Eye Jewels and Mascara every day.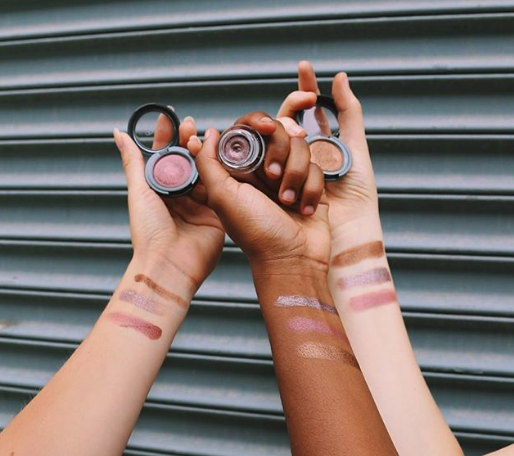 I believe that you should be able to get the look you want seamlessly with the right products.  dome BEAUTY was founded on the concept of simplifying the makeup application for the modern woman.  We live hectic lives and we don't have time to re-apply our makeup all day.  Spending less time on your makeup is not only realistic it's often times a necessity.
The most beautiful person I know is my cousin Diane.  While she is no longer with us, she truly was the most beautiful person I ever knew.  She was my best friend, my sister, my role model.  Even though she was drop dead gorgeous, that was not what made her beautiful.  It was her creative spirit, loving nature and will do anything for you personality that made her beautiful.  If you needed something she was there to lend a hand.  Her artistic nature was always available to make any event, party or special occasion just a little more beautiful than you can imagine.  Once we made a wedding cake for my nephew's wedding.  We thought how hard could it be?  I baked the cake, easy!  Now to make it spectacular.  Yikes…where do we begin?  Diane bedazzled that cake into a professional master piece.  Beauty just poured out in everything she did.  To me that is a very special kind of BEAUTIFUL.
The biggest beauty mistake would be my (one time!) use of bright pink lipstick.  I saw a picture of myself while wearing it and thought "oh boy!"  While it wasn't a complete disaster, I know it was a bad choice and it didn't work with my skin tone.  Meanwhile, the beauty trend I'm looking forward to trying is blue liners and shadows.
If I had a daughter, I would make sure she knew the importance of loving herself.  I also would like her to be able to express herself without being judged only on appearance.  For example, whether you like long hair, short hair or purple hair you should be able to express yourself in a way that makes you feel good inside.  When you are comfortable with your own looks, the world will see you as beautiful.  And, if I had a son, I would definitely teach him to respect women.  I understand that men may see the "beauty" of a women differently.  However, that should not discount the original respect and idea of beauty as more than skin deep.
If I were stuck on a desert island and could wear only one beauty product, it would definitely be mascara.  I know, I know… sunscreen, and all that for a desert island.  But this is my product and it would make me feel beautiful – even all alone on an island.  That's the power of good makeup combined with a healthy understanding of beauty!
And that fine LoveRealBeauty readers, was the Interview With a Successful Woman (#IWASW) of Maribeth Pyne.