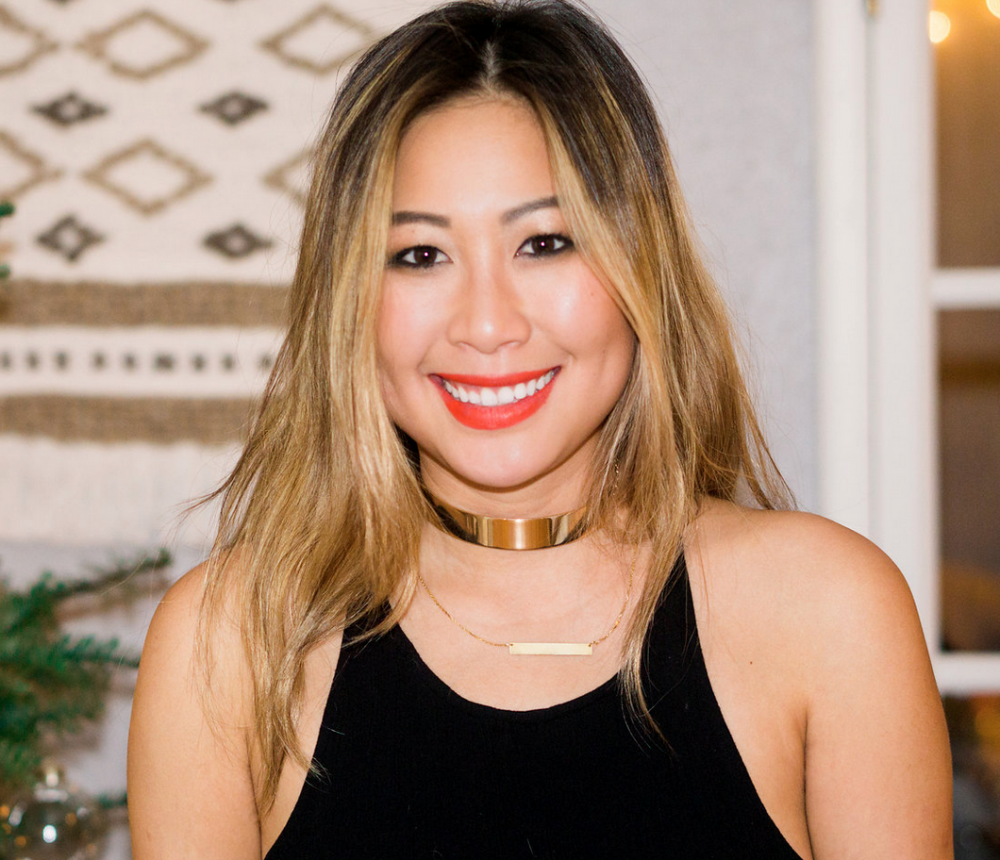 Huong Nguyen is the founder and owner of Los Angeles based Heartlab Beauty.  Heartlab Beauty is a lash and brow boutique that offers unique brow and lash beauty solutions.  This is her makeup story.  This is her relationship with makeup.
Growing up, I was the little girl who always loved to play with my mother's makeup when she was away.  When her makeup was off limits, I took colored pencils and enhanced the lips and eyes of the already beautiful magazine models.  As I got older, my love for beauty was multiplied and complemented by my love of making others build confidence and happiness.
After graduating from college and working three years in corporate fashion, that burning passion to beautify others took the front seat and I started Heartlab Beauty.  Almost two years later, I have beautified over 400+ women and I am constantly learning and growing my business.
My personal mantra for beauty is simplicity.  As beauty obsessed as I am, I own a limited amount of beauty products – usually 15 or less at any given time.  One thing I've learned from working with my clients is that we are all born beautiful, but ways of enhancing beauty vary from person to person.
I chose to specialize in lash extensions and microblading brows because these services help save women time in their daily routine.  My own beauty regimen from face wash to a full makeup application takes only 20 minutes or less each day.  My goal is to get my clients there as well in terms of efficiency and simplicity.
My favorite part of being a beautician is the creativity it allows me and the ability to share it with others.  The sharing of a unique artistic creation for each client, and seeing their happy reactions is what keeps me going everyday.  I'm no miracle maker, but happy tears have been shed in my studio from clients who have been through many hardships in life and are able to love their lashes or brows again.  I can't say that it gets much better than that.
My beauty icon is Natalie Portman.  I love her strong features that somehow seem so delicate altogether.  Her brows are major #goals and the simplicity of her red carpet beauty looks are always glam packed yet so timelessly stunning.
My mother is absolutely a "real beauty", no debate there.  She started out working in the beauty industry for $60/week as an immigrant single mother.  Her passion and dedication has built her a full book of clients and her own beauty salon which has enriched the community of West Hills (Los Angeles) for nearly 20 years now.  From the beauty industry, my mother built an entire lifestyle and family.  She deserves all the recognition!
The ultimate make-up trend that has changed my life is 3D Brow Microblading.  For someone like myself who has always struggled with brow symmetry and shortage of hairs, microblading fills in brows by adding hair-like strokes that look so natural and beautifully shaped.  It has cut down my daily routine by 10 minutes daily and lasts for over a year!
If I had to choose only one makeup product to have with me (i.e., the old stuck on a desert island with only one makeup product hypothetical) it would be lipstick.  Even when the stresses of life throw you for a loop you can still paint yoru lips with a vibrant color and turn your day around.  It's hard to look tired with magenta lipgloss!
Follow Huong on Instagram at @heartlabbeauty and check out www.heartlabbeauty.com