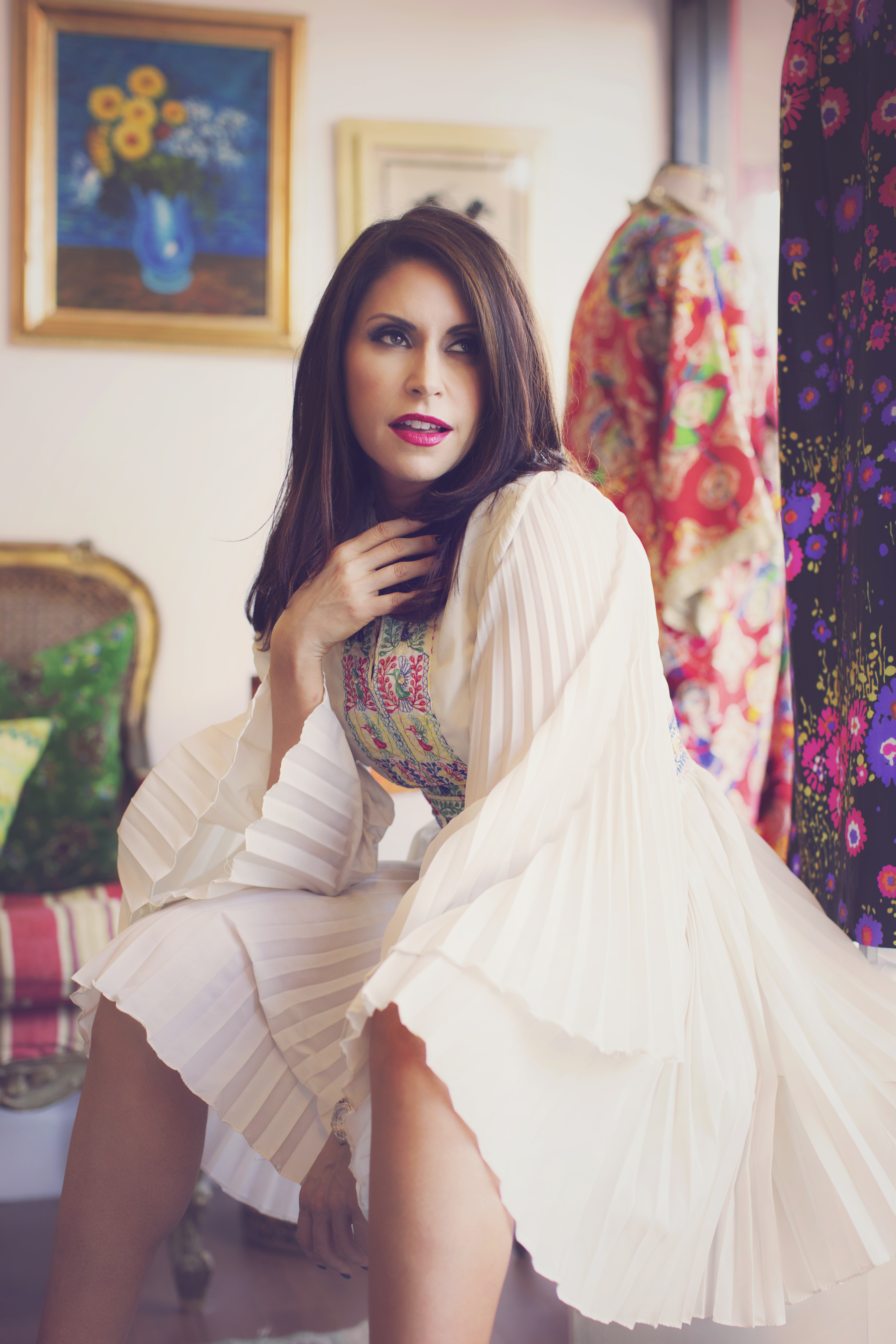 Julie Xander is fit and fabulous.  We're not just saying that.  Julie is "LifestyleJules."  She's a fashion stylist and lifestyle coach.  She has a serious following on Instagram.  She looks like she's 25 and not 42 years old.  She knows fashion inside and out.
Julie will tell you that her most important description is that of "mom."  She's the mom of three teenage kids.  More than anything, Julie is trying to be inspiring – inspiring greater self-confidence and empowerment through fitness and fashion.   Here's her beauty story.
"I always loved makeup.  Even from a young age, I was into makeup.  It started with my mom doing my hair.  Bless her, but my mom was terrible at doing my hair.  It hurt and looked bad.  So, I started to do my own hair at a very young age.  I'm talking 6 years old here!  As I started to get more interested in my looks due to my doing my own hair, I noticed my mom's makeup.  My mom wouldn't leave the house without makeup on.
As I started to experiment with makeup, I noticed that wearing certain products made me look better.  They made me look more refreshed.  Even today, if I'm having a crappy day, I'll put on a little makeup and it brightens me up a bit.  It's not a mask, but a way to alter your inside through your outside looks.
Now as a fitness instructor, I wear makeup.  Obviously, I have to be careful as to what types of makeup I wear.  I would hate for a good sweat session to cause a giant mess. Usually, I'll apply a light profile in the morning and do my hair up.  I will refresh it later in the day, usually with powder.
I think beauty is having confidence.  It's not a look or a size.  It's about being put together. It's about being who you are – taking pride in yourself, including putting on some makeup.
There's no doubt that my mom is my makeup icon.  She taught me about "getting ready." That essentially means, don't leave the house looking like a mess.  It doesn't mean you need a full makeup profile.  It just means having the self respect to treat yourself to a bit of makeup.  As for celebrities, I think Jennifer Lopez and Gwen Stefani wear their makeup in amazing and unique ways.  They know what looks beautiful (on them), but they still experiment with different looks.
One of my favorite makeup products is the NYX palette.  And, if I was stranded on a desert island and could have only one beauty product with me, it would be MAC Painterly Eye ("Pro Longwear Pot").  Having tired eyes will not do!  I insist on making my eyelids pretty."
That's an interview with another successful woman and the beauty story of Julie Xander.
You can find her on Instagram @lifestylejules and at her website here.