Joydi Ovalle (IG: @joy_Di_o) started her first business when she was just 19. She owns and operates a successful commercial cleaning business based in Atlanta. This is Joydi's beauty story.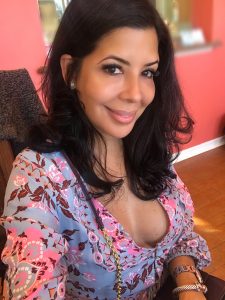 I grew up in the Dominican Republic, where the concept of beauty was and still is quite different of that of the US. I was mostly a tomboy growing up. Very thin and with wild, long curly hair. In our culture, dark straight hair, a voluptuous body, and a big smile is considered beautiful.
I'm a firm believer that happy, confident girls are the most beautiful. I have embraced my Latina culture's definition of beauty and that has made all the difference. I'm happiest and feel most beautiful when I'm tanned from the sun, my hair is curly, and my skin is clear. Traveling to the beach often helps me keep that glow that makes me so happy.
I think it wasn't until my late 20s or 30s when I got more interested in makeup. I've always kept my makeup to the basics – I'm still a tomboy at heart. I prefer high-quality skin products and light makeup, that I apply mostly with my hands!
I've been an entrepreneur/business owner since the tender age of 19. I've been successful by doing a good job for my clients, by being consistent, responsible, and confident when doing sales. I understand that I represent my company and our services so my presence needs to show it.
I don't wear makeup everyday unless I'm going out or visiting with clients. I use a tinted Dior BB Cream as foundation, some peachy-colored blush, and a tinted Nivea lip moisturizer. I have been wearing lash extensions from Atlanta's Blink and Wink for the last few years and it makes a great difference. I don't need to wear any eye makeup unless I want to do a very glam look. Lash extensions are easy to take care of and only require me to visit the studio every 4-5 weeks for 90 minutes.
If had to choose just one Real Beauty to recognize, it would be Francesca Aiello, owner of Frankie's Bikinis. I haven't had the pleasure to meet her, but I have been following her and her brand for the last few years. She's young, beautiful, successful, and of course, owns my ultimate business dream: a bikini company. She designs, promotes, sells, and models. Her look is very natural and unpretentious. Can you say girl crush?!
As I'm getting older, I've started playing around with different MedSpa procedures. I have to say that microneedling is hands down the best. It closes pores, and overall improves the texture of my skin. It even gets my products working better, perhaps since it removes the top dead layers of the skin. It has also helped with the appearance of scars.
I take really good care of my skin. I use a light SPF BB cream daily. I only use Jurlique products to wash and moisturize. Everyone that knows me, knows about my never-ending love for Jurlique. Jurlique is an organic brand from Australia. I have been using their products solely for the last 10 years. Jurlique Skin Balancing Face Oil (available from Sephora) is my number ONE! It moisturizes. It perfects my skin. I can put it on a sunburn and it goes away. To me it is magic!