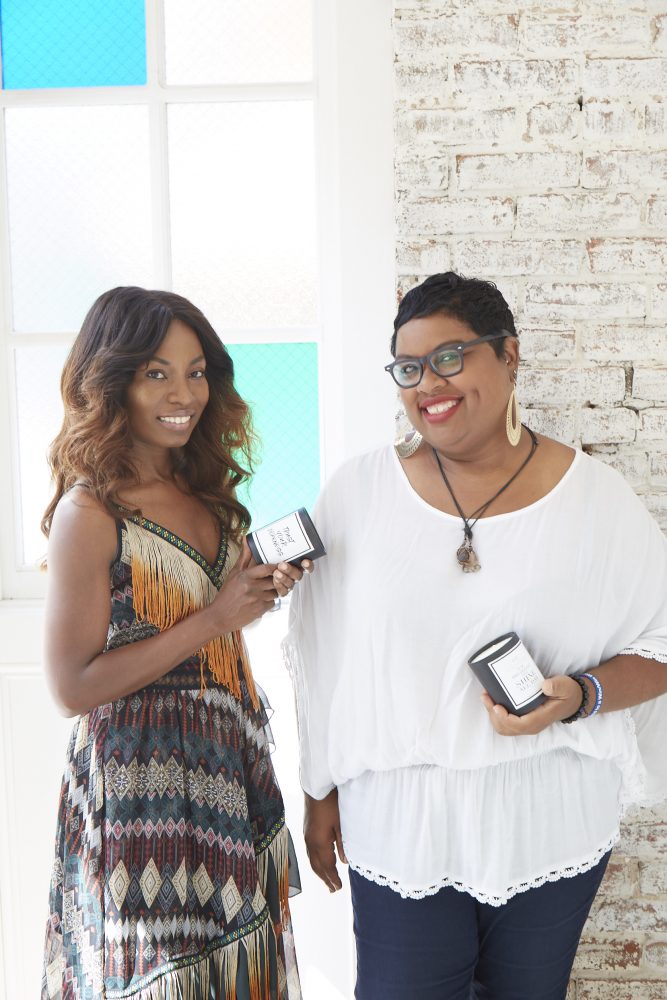 Joy Fennell and Valerie Wray are, friends, New York City-based entrepreneurs, and successful women!  Joy Fennell, originally from Maryland and Valerie Wray, originally from Kentucky, have both lived in NYC for over fifteen years.  They are the founders of The 125 Collection, a lifestyle brand that fuses fun, fashion and individuality into everyday life.  Joy and Valerie have created a line of non-toxic, all natural, quotation candles.  The quotes run from cheeky to empowering, suiting the personality types of all kinds of people.  Joy Fennell and Valerie Wray bring their collective and shared love of beauty, fashion and fragrance to their growing business at The 125 Collection.  This is #IWASW beauty story of Joy Fennell and Valerie Wray.
One of my (Joy) earliest memories about beauty is when my mother incorporated fragrance into her beauty regimen.  She loved the fragrance "Angel" by Thierry Mugler and would spray it as a way to make herself smell as good as she looked.  That taught me to appreciate the seductive nature of scent and how to incorporate it into your everyday beauty toolbox.
Beautiful to me (Valerie) is about loving yourself, with your flaws and all.  Being beautiful is having sufficient self-love. It is taking care of yourself, nurturing yourself, radiating positive energy and helping others.  My skincare regime is pretty consistent.  I use gentle, non-toxic products in the morning and night.  Also, having an understanding that what goes into my body manifests itself on the outside as well as the inside is important.  I drink plenty of water and incorporate lots of fruits and green veggies into my diet.  As for beauty, a mascara and sun-kissed light foundation routine is my every day go-to.
I (Valerie) would describe myself as a fashion addict.  I love shoes and clothes.  Over the last few years, my style has evolved.  I now incorporate vintage pieces into everyday looks. It may be a pair of vintage jeans with a trendy t-shirt or a vintage dress with some stilettos.  Personal style equals self-expression and my only rule of fashion is:  if I don't feel amazing in it, I shouldn't wear it.  For example, as we do this interview, I am wearing an off the shoulder summer kaftan with a floral headband and strappy flat sandals.  I feel comfortable, stylish and most importantly, I feel beautiful.
We (Joy & Valerie) both agree that our mothers are the most beautiful people we know.  Our moms provided a blueprint of what beauty looked like at a very young age.  Coincidentally, both of our mothers have very similar standards of beauty and they could both be described as "girl's girls."  Both are always immaculately dressed with great makeup.  We both feel that the beauty standards our mother's taught us at an early age, continue to shape our own views on beauty.
(Joy) One beauty trend that I've always wanted to try is the "winged" eyeliner eye look.  I've always considered it to be a classic beauty trend, but I haven't ever incorporated it into my makeup routine.  I feel like it's a look to use when going out on the town, and not necessarily for everyday use.  However, it is getting more popular now and I just might start wearing it!  To get that look, I'd probably use Maybelline "Master Drama" eyeliner.
If I (Joy) could only wear one makeup product, it would have to be my red lipstick!  I mostly wear it in matte red.  It's my makeup pick me up!  It always allows me to dress up any look. I also feel sexy and happy when I put it on.
And that's the Interview With a Successful Woman (#IWASW) with Joy Fennell and Valerie Wray!