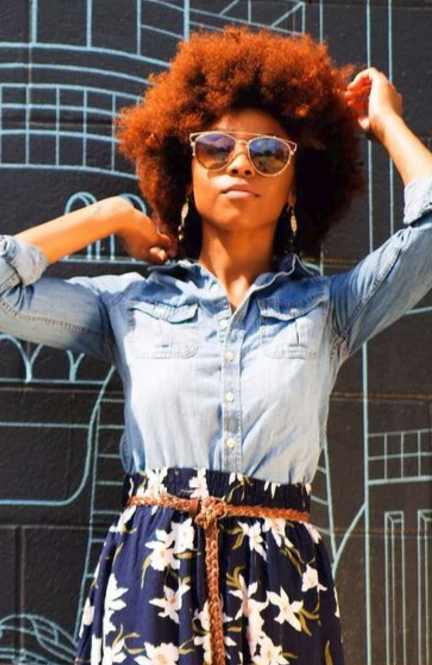 Imani Williams is young, talented and humble through devotion.  Those are the qualities that are really important.  Less so, but equally impressive, she is a successful speaker and writer with a passion for communicating.  Formerly a senior staff writer for The Mixx Magazine, she is now a community outreach worker.  As Imani herself says – she has a deep passion for people and communicating through the written or spoken word is how she embraces and nurtures that passion.  Now we are doing it for her a bit here (with her approval!).  This is Imani Williams' beauty story.  
My main beauty interest is hair.  I'm relatively new to makeup.  I began to embrace my natural hair in 2012 and realized it really made me feel good to learn new ways to take care of my hair and to see the results of what I was doing.  I would go to the salon for some of the hair care things I couldn't do myself like coloring and trimming but for the most part I style and care for my hair on my own.  I really enjoy the way I feel when I try a new hairstyle or color.  Looking good is such a boost to my confidence, especially when I am the reason I look good!
I became interested in make up only maybe two years ago.  I'm no expert, but learning to use makeup to enhance my natural beauty has been a lot of fun.  I started wearing more makeup because I had to do a photoshoot and I had an artist to do a very natural look for the photos.  The look was so pretty and I still looked a lot like myself.  That made me want to learn to do that on my own.  I wanted to learn to play up my beauty.  Last year, I went through a lot of life changes and my skin went completely haywire.  I broke out in everything from acne to hives and a lot of it left noticeable scarring.  I went on a journey to improve my skin and in the meantime, I watched makeup tutorials to help me find ways to dress up my face while I was feeling a bit insecure about my skin.  My skin is much clearer now, but I'm still able to use what I learned about makeup to make my look fit any occasion.
My personal definition of beautiful has much more to do with how I feel than how I look.  I feel most beautiful when I feel proud of myself.  When I have accomplished or overcome something whether it be a career or community accomplishment, or simply mastering a hair or makeup style I saw online.  I feel so beautiful when I can say "Look what you did, Imani!" and I celebrate myself for that.  My beauty regimen fits that definition because it's always about progress and improvement.  I welcome change in the form of hairstyles, makeup looks, and skincare so my entire beauty regimen is about improving the health  and strength of my hair, the neatness of my make up, and the health of my skin.  Every step in my routine is meant to make myself look and feel better better than yesterday. Some days aren't as successful as others but I have a great sense of humor so I roll with the punches.
My beauty icon is and has always been Tyra Banks.  She is beautiful inside and out.  I love how her career reflects growth and influence.  She recognized the scope of her influence very early on and was able to build a life based on inspiring others.  I also admire how she was able to share her insecurities and be vulnerable and still stay on top of her craft.  She's the definition of iconic to me.
My mother is the best definition of "real beauty."  She is successful in her career, in parenting, she's such a supportive wife and still has a life of her own.  She has been influential in her community as an example of strength and spirituality and extending sisterhood to anyone who needed that support.  Her physical appearance is always stunning as well.  She's a minimalist when it comes to hair and makeup and has always been very stylish in her appearance.  Regardless of what she's wearing, her confidence is always what's most noticeable.
If I were to experiment with makeup, I would love to experiment a lot more with color.  I usually stay pretty neutral but  I'd like to wear brighter eye shadows and even try dying my hair a brighter color.
If I could only wear one beauty product, hmmm…. I'd be pretty depressed if I could only wear one hair product!  LOL!  My afro alone takes a minimum of three products per week! But if I had to choose it would probably be "It doesn't get much butter than this" hair butter by The Mane Choice on my hair.  Then I'd just get a really great tan and keep my skin moisturized and I'd be set!