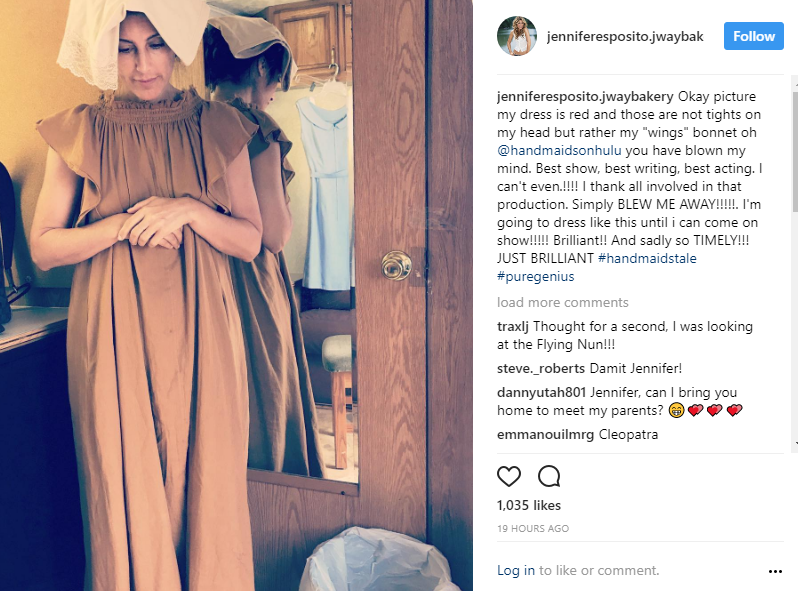 Offred Would Approve – Handmaid's Tale (Jennifer Esposito's Instagram)
BEAUTY NEWS: women being subjugated has struck a nerve.  The Hulu version of Margaret Atwood's Handmaid's Tale is off to immense success.  Even the likes of Jennifer Esposito are feeling empowered by the story.  In one sense it's weird to be empowered by a story that has the degradation of women as its central theme.  In another sense, it is the momentary rebellions and forbidden pleasures that show a truly empowered female spirit in the Handmaid's Tale.  We like.  We recommend.
Sheila the She-Wolf from GLOW is Makeup Empowered (Glamour)
BEAUTY NEWS: we're two for two here talking about TV shows…  On to GLOW from Netflix.  It's another very interesting and very good TV show.  The makeup female wrestlers and entertainers wore in the 1980's is often obvious, copious and sometimes hideous.  However, this article takes a very unique approach to analyzing the show and being empowered by the CHOICE of makeup.  As we always say, "wear makeup your way." Good article by Rachel Nussbaum.
Kim Kardashian Goes Makeup Free in a Makeup Tutorial Video (Entertainment Tonight)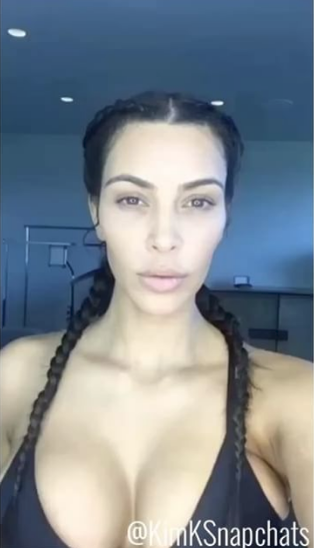 BEAUTY NEWS: OMG, this is such crap.  Please just read the title of this article.  She's putting on makeup so by definition, she's not makeup free.  No #nomakeup here.  Not only is she putting on makeup, thus defeating the entire ethos and idea behind no makeup, her video is clearly filtered.  Not a flaw in sight.  Again, we have nothing personally against the Kardashian clan. However, we find their brand to be false purveyors of female empowerment. That insincerity is all too often and unfortunately couched in ridiculous terms (e.g., "KK is #nomakeup…) by her promoters, agents and handlers (or, so we guess).
Obsessed With the new Makeup Revolution Rainbow Highlighter (Refinery 29)
BEAUTY NEWS: and it continues…, the rainbow, unicorn, super colorful breakout makeup collections and products.  We love it!  We do!  Makeup Revolution is leading the pack with a new, even more colorful, highlighter.  Check out the pictures.  Maybe don't wear in sweltering humidity though!  Great pictures in here by the Refinery 29 staff!
I Let Reddit Critique My Makeup (Elle)
BEAUTY NEWS: first, credit where it is due.  To writer, Kristina Rudolfo, for her bravery in allowing her face and her makeup to be critiqued on Reddit.  In and of itself, that's strong! Major no F!'s given cred to Ms. Rudolfo!  Secondly, she did learn some things from the very active MakeupAddiction Reddit board.  Things like eye sizing and interplay between makeup as well as product ideas.
HeFlawless on Makeup Advice and Harsh Stories (Paper Magazine)
BEAUTY NEWS: HeFlawless is Kenneth Senegal of course!  He's an amazing makeup artist. We emphasize the word artist here.  He uses makeup to create amazing looks – mostly on himself.  Besides being an #MUA, he is also very open about how makeup makes him feel and the utility of makeup.  This is a deep conversation and touches on issues like people being scared by what they don't know – especially things that may have gender connotations.  Good work Paper!  Read it.  Learn.
More Men are Wearing Makeup to Their Weddings (Allure)
BEAUTY NEWS: Jesus, it's about time.  Guys, what took you so long?  Come on, it's only the second biggest day of your life (note to gentlemen: your kids' birthdays are one notch above your wedding day, except on your wedding day and yearly anniversary thereof.  Don't fricken forget!).  This article doesn't do much to deconstruct the societal pressures male makeup connoisseurs obviously feel, but it does give some interesting facts.  More discourse on this subject is needed.  Good work Macaela Mackenzie!