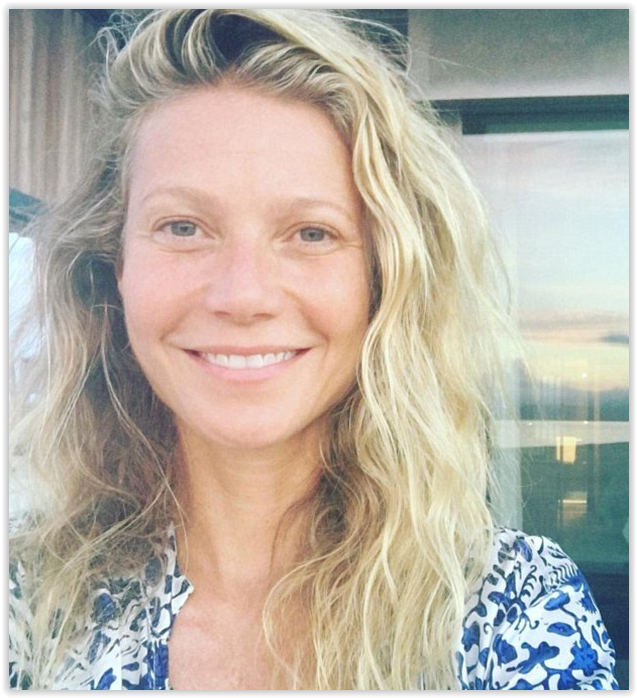 The big news in cosmetics, makeup and beauty products today was the absence of everything.  No eyeliner, no blush, no foundation and certainly nothing on those lovely lips.  In case you missed it, accomplished actress and domestic diva, Gwyneth Paltrow, decided to go makeup free for her birthday.  In the this age of sharing everything, she took a selfie of her #nomakeup #goopgoesmakeupfree day while marking her no makeup 44th birthday.
You know what?  She looks great!  No matter what you think of her, Gwyneth Paltrow, is pretty darn beautiful without any makeup.  Would that we could all look like Gwyneth Kate Paltrow rolling out of bed after a night of gluten free margaritas and kale chips without any makeup on!
Of course, we also realize that her company, Goop, sells some great beauty products so we wouldn't be surprised to see Gwyneth less barefaced tomorrow!
Go to the Goop website http://shop.goop.com/
See articles on this subject:
 https://www.yahoo.com/beauty/gwyneth-paltrow-shared-a-makeup-free-selfie-for-170134653.html
http://www.dailymail.co.uk/tvshowbiz/article-3810970/Gwyneth-Paltrow-commemorates-44th-birthday-make-free-selfie.html
http://www.eonline.com/news/798157/gwyneth-paltrow-says-no-to-makeup-while-celebrating-her-44th-birthday