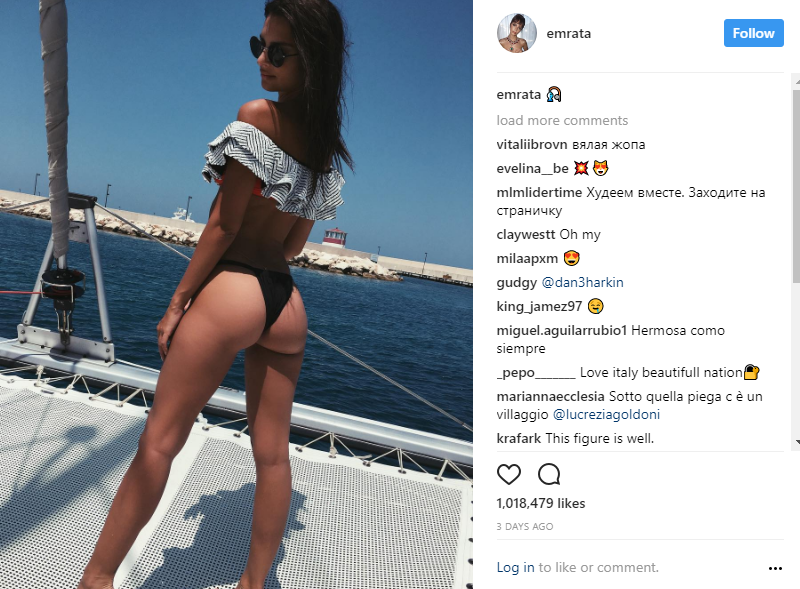 Emily Ratajkowski Instagram Feed
BEAUTY NEWS: look, we aren't rubes.  We know what sells.  Our whole business is based upon telling stories.  Hopefully, empowering ones.  We have nothing (NOTHING) against Emily Ratajkowski.  We don't know her from a bump on a log (or is it a blog?).  Anyway, we think her pert derriere is lovely.  It's a fine looking back end.  The fact that she and her advisors and handlers feel it necessity to post pictures of it so frequently in her Instagram account is kind of ridiculous.  It's not as though ER doesn't have talent beyond her booty. Can we please have a Gen Z Instagram account of a Hollywood A lister NOT be littered with overt sexuality?  Girls, you're beautiful beyond your bootiful!
The Rise of the Male Makeup Artist (Forbes)
BEAUTY NEWS: this is not really news in our humble opinions.  Guys have been good at putting on makeup for a long time.  So really the point should be that makeup is an art form, rather than a frilly, female-centered activity.  Clearly some of the best #MUA are guys. From Jeffree Star to Manny MUA, guys are showing their creativity with makeup.  Not news. Rather, it's a confirmation that makeup should be viewed in a different light – as real artwork.
This Woman Uses Food as Makeup (Fox)
BEAUTY NEWS: OK, this article is about a woman who uses things like Skittles for makeup.  Nice work.  Cute.  The broader point should be that the things you put on your face should be less toxic.  At LoveRealBeauty we work with many brands that are producing makeup that is almost edible – it's that pure.  Check out Jersey Shore Cosmetics, Genuine Glow Skincare, or EirNY+C.  Some of these products have to be refrigerated!   We like, very much!  Get acquainted.  Probably don't eat though….
Kim Kardashian Shows Off Her Makeup Skills (Cosmopolitan)
BEAUTY NEWS: our first inclination is to call malarkey.  Like, seriously, totally, BS.  Not going to do that though.  By now, KK has a bevy of servants to help her primp, tone, choose, and pretty up.  That's just fine.  She's a big star now.  Our guess is that KK still has some mean makeup chops and although we don't see her brand as being aligned with the ethos of LoveRealBeauty's recognize and empower real beauty and real women mission, we would never underestimate Kim Kardashian.
I Wore Primark (drugstore) Makeup For a Week (Cosmopolitan UK)
BEAUTY NEWS: this article is nice analysis of what it's like to exclusively wear drugstore makeup for an entire week.  We hear all kinds of product reviews about drugstore makeup.  Those are individual product reviews.  This article puts it all together and details the routine of only drugstore makeup and how it works, feels, lasts and what the facial effects are over the the week.  Good work Laura Capon!
Kristin Cavallari is Helping to Launch a Plant-Based Makeup Line (Bravo)
BEAUTY NEWS: two things to consider.  One, the word "helping" is very open ended. Most often celebrities are paid for their involvement in a beauty product but they do not have any managerial, creative, or product control.  It's the celebrity name that sells.  Don't lose sight of that fact.  Secondly, we are a huge proponent of plant-based makeup.  The skincare industry has come a long way in using less chemicals and better formulations. It's time for the makeup industry to catch up.
How to do Your Makeup in a Heat Wave (Hollywood Life)
BEAUTY NEWS: this article points out that being economical with your makeup when it's hot as hades is good idea.  Secondly, it's important to use quality (i.e., non-melting) products.  Good points all around.  Writer Dory Larrabee-Zayas holds up Gabrielle Union as a good example of how to wear makeup when it's super hot.  As always, she looks great.