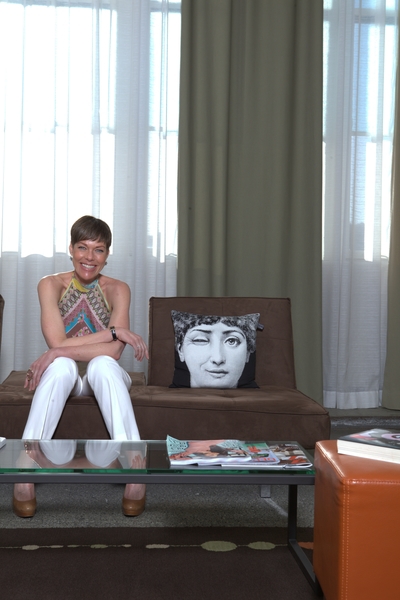 Denise Spanek is a true beauty industry polymath.  She's an accomplished makeup artist who has worked on Hollywood and TV industry productions.  Denise Spanek is also the owner of a successful skincare practice through her Visage Studio.  She is also a beauty product inventor and entrepreneur as the founder of Air Repair Skincare. Air Repair Skincare is a unique product line developed to combat the effects of environmental skin stress such as air travel.  This is the beauty story of Denise Spanek. 
My impeccably well-groomed mother is my original beauty influence and probably why I chose to enter the beauty business in the first place.  As a mother of three children with a full time job, she managed an early morning beauty regime even if it meant getting up at 4:30 am to do it!  I believe it was not just about giving her confidence in the workplace but that was her "me time" time of the day.
She noticed my love for make-up and skincare at an early age.  When I was old enough, she would take me to the department stores on special occasions like when a famous makeup artist was coming to town.  I would sign up to learn the "tricks of the trade" this way.  This eventually led me to study makeup artistry and skincare.  I would go on to get my esthetician's license and open my own makeup and skincare studio in my early twenties.  I went on to run a successful business called Visage Make-Up and Skincare Studio in the San Francisco Bay Area for over thirty five years.
It may be cliché, but I believe "beauty" is feeling comfortable in your own skin at any age.  This gets a little tricky, especially for women, as society isn't set up to support this way of thinking.  I recently read a quote on the beauty website ipsy that said, "Shout out to all the girls trying to love themselves in a world that is constantly telling them not to."  This is my point exactly.
I do feel the norms are changing – not only for girls and younger women but for older women as well.  The movement to start accepting their perfectly wonderful "imperfect" bodies and to know that real beauty is what's inside is ongoing.
I recently attended the Women In The World 8th Annual Summit and it was a real "game changer" for me.  While it was filled with harrowing stories of violence and oppression told by amazingly brave women from all walks of life, there was a rising of "sisterhood" and a coming together that happens only in adverse conditions and situations.  To quote Tina Brown "from the tumult something good is emerging."  What seems to be emerging is the way advertising is starting to get away from objectifying women (and young girls) as sexual objects to sell goods.  We are obviously more familiar now with women in STEM fields.  At the same time women like Dian von Furstenberg can still have a rocking career in the fashion industry at 70 years old.
My beauty regimen follows my philosophy about being comfortable in your own skin at any age.  For me, at age 57, I know there is no fountain of youth product to slap on your face to make you look ten years younger.  However, there are wonderful products that can make skin look smoother, healthier and give it an overall great glow!   To be candid, this is what Air Repair Skincare is all about – healthier, glowing skin at any age.
I adore fashion!  I look at it as one's own personal artistic, outward, expression.  It's a way to walk through to world and let people know who you are without ever saying a word.   I tend to dig brands that skew younger like Acne and Isabel Mirant.  Now in my fifties, I find myself much more into a capsule wardrobe style of fashion, choosing high quality pieces that are simple and streamlined and can play off each other.  I choose pieces from a hand full of designers that I know flatter my body as well as express my own personal style.  Then I will fill in with less expensive pieces from mainstream brands like The Gap, etc.
Since it's my job to stay on top of skincare products that are trending, I subscribe to both Birchbox and ipsy to discover new brands.  So, I guess you could say I like the trend of beauty subscription boxes.  Yet, if I were stranded on a desert island and could have only one product it would be my Air Repair Complexion Boosting Moisturizer.  It not only makes my skin feel more hydrated on contact but gives the skin a healthy glow.  Plus, it evens out my skin tone so I find myself feeling more confident on those days that I want to go without make-up.
This was the beauty story of Denise Spanek!