Ridiculous.  Just ridiculous.  Aly Raisman has reported being body shamed.  This is what she said on Twitter:

Aly Raisman is a three time Olympic gymnastics champion.  She's got more muscle than all the dudes at my gym.  Aly Raisman has enough muscle to literally fly through the air a la the picture directly below.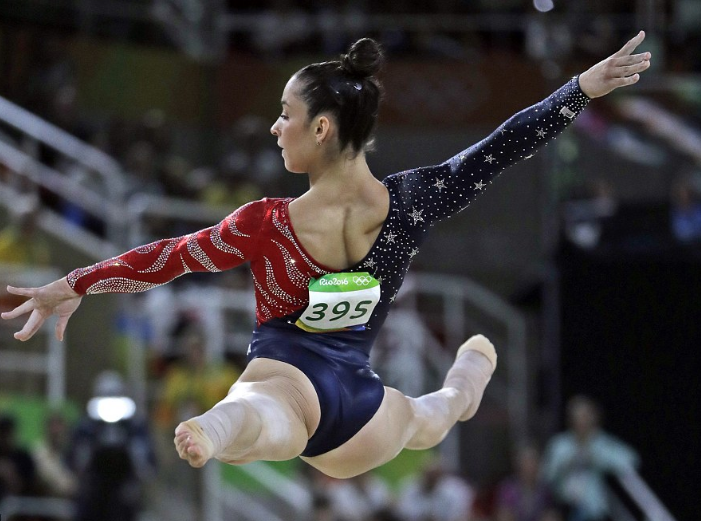 No matter the circumstances of l'affaire Aly Raisman vs. TSA agent*, it all goes to highlight three important issues:
First, making a judgement on looks alone is completely illogical and plain old dumb.  Like the woman in front of you at the airport, dressed in her airport clothes, might not be a gym rat (or Olympian in this case)?  "Don't judge a book by the cover" isn't just a nice thing to say.  It's about not being stupid.  Give me a break!
Secondly, there is still a massive gender differentiation on how society immediately sees, and therefore judges (a woman).  The current default is to judge women by their immediate looks.  That default seems to be very hardened and without any intellectual reflection or internal dialogue.  It appears to happen at an even greater velocity in this age of insta-communications and is applied by both men and women to their judgments of women.
Thirdly, this issue highlights the fact that common concepts of "strength" or "beauty" are inflexible.  Society expects strong people to look like "XYZ" and beautiful women to look like "ABC."  That is incredibly counterproductive and often times reprehensible.  There is no single definition of strong or beautiful.
We forcefully submit that Aly Raisman is both strong and beautiful!  We hope to see her in the next Olympics, flying through the air, only weighed down by all the gold medals around her neck!  We hope society can make positive changes on how they judge the appearances of women.
*  The TSA guy who engaged in this bullsh#t behavior is going to catch hell one way or another.  Our guess is that it was an "un-thinking" moment (i.e., stupidity, whether momentary or longstanding).  We acknowledge full and well that we all (definitely me!) make mistakes and sometimes bad ones.  Hope this guy learns from this.  I certainly have.