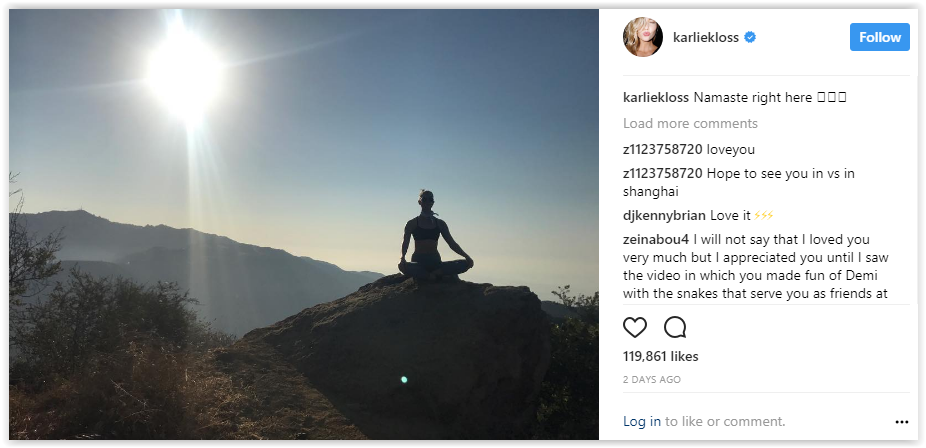 Namaste Right Here (Karlie Kloss Instagram)
Beauty news important/interesting: we love us some Klossy.  Yes, Karlie Kloss and all her geek aesthetic is lovely.  The coding thing, the good vibes and now apparently an ability to get super zen on top of a rock.  Namaste, indeed!  This picture, because let's face it…, it's a big week next week.  The non-official summer is over.  Back to the grindstone.  Back to work. And also that horrendous, sad, terrifying day on our calendar in early September for the past 16 years.  We need some balance and perspective here.  Frankly, we don't often look to Karlie Kloss for life balance, but heck, we might this time.  At least it's a nice picture.
Three Women Making Their Mark On The Beauty Market (The Guardian)
Beauty news important/interesting: we love this article.  It's not some sugary crap usually associated with "disrupting beauty" articles.  Well done Guardian.  It's a serious paper and this is a serious article.  We'll spare you the names and details suffice it to say: one woman has a completely new pricing model for makeup, another woman is broadening luxury makeup offerings to women of color, and another woman is actually celebrating aging (i.e., rather than attempting to reverse it, which last time we looked is not possible).  Read it.  Good information, especially if you are in the beauty industry.
Everyone Is Obsessed By Rhianna's Fenty Beauty Campaign (Allure)
Beauty news important/interesting: we kind of disagree with Allure.  OK, so Rihanna has a new line of makeup and beauty products and it's not just for white girls.  Congratulations. Although we think that Fenty will be a big seller, it will take some convincing to suggest that the quality of wares is better than the advertising.  Here's the video.  Now let's see if the sales machine ramps up.  Our guess is yes.  Big hit.  Good makeup?  We shall see.
Labor Day Beauty Sales (US Weekly)
Beauty news important/interesting: we love us a good sale!  There is nothing all that important in this article – other than 20% discount codes for brands like Vichy.  We pass along 'cause you know…, sales of good stuff and all….
Squiggle Eyebrows And Lips Online Beauty Trend (Independent)
Beauty news important/interesting: let's be honest, this is not a great look for the office or the school meeting.  Not yet anyway.  We love this experimentation though.  Again, this shows that makeup can be art in many senses of the word.  It also reinforces that the big beauty brands better damn well pay attention to those crazy YouTube MUA kids out there before they miss another huge trend (i.e., trend = profit).  We also give The Independent high marks for editorial elasticity.  Brave-ish.  Kudos.
Beauty Brands Helping Hurricane Harvey Victims (Today)
Beauty news important/interesting: this is important and we give high marks to these brands for their humanity.  Without being preachy, we feel like humans could be a bit nicer to other humans.  Roll call of the good guys: Drunk Elephant, Winky Lux, Sunday Riley, Lime Crime, Renee Rouleau.  Well done humans.  Humans helping humans.  It only took a tragedy to get there.  Oops, we are being preachy now.  Sorry.  Not.
Salty Girl Beauty Announces Nationwide Launch (Vindy.com)
Beauty news important/interesting: we have never heard of Salty Girl Beauty until now, but we have a super large sweet spot for the little guy – or, probably girl in this instances. You go girl!  We love the fact that the beauty industry is no longer the exclusive domain of a bunch of billion dollar manufacturers.  Small, nimble, quality brands are here to stay and we wish Salty Girl Beauty the best.  What could be better than an organic ingredient, Maine-based, boutique outfit offering high quality wares?  We love it.