Fresh Vitamin Nectar Vibrancy-Boosting Face Mask Price:​ $62
Let's talk about the elephant in the room first. Yes, it's $62. Yes, it's a face mask. Is it worth it?
I am going to start by saying this: the entire reason I got involved in makeup was a prior obsession to skincare.  I truly think that cosmetics should be an expression of self care and love, so I have to say that I am a little more biased on coming to terms with investing in my skin care.  With that said, I have yet to chalk up the cash to pay for a full size of this, the jar shown here is a mere .5 fl oz.  I received this deluxe sample size through some points at Sephora – I guess it pays to be addicted to makeup, right? Right?!
Fresh is a brand that prides itself on using natural ingredients mixed with age old traditions and new technology.  This mask came out as a celebration of 25 years of innovation in the skincare industry.  I can confidently say that I have never noticed more of a change in my skin after a one-time use of a product than I have with this.  Though I don't have heavily problematic skin, I do have uneven skin tone and texture with an occasional breakout.  This means that I feel most comfortable with a bare minimum of concealer.  After using this only once, and getting a call for a last minute dinner date with a friend, I went out bare faced feeling better than ever about my skin.  On top of that, my friend happened to mention how great my skin looked!  Confidence AND a compliment? Thank you, Fresh!
The first thing you'll notice upon opening this jar is that you may have confused it for your orange marmalade in the fridge.  Fear not, the jellied orange rinds and citrus fragrance all come from natural ingredients like vitamins C, E, and B5, lemon and orange fruit extracts, and minerals to help promote a glowing complexion.  While I was a bit nervous that I was putting a sugary, sticky mess onto my face, this mask was surprisingly none of those things.
I prefer to gently exfoliate before any face mask to absorb all the goodness that masks hold.  I think that really helps with this one since the consistency is a bit thick and I have a theory that if you apply face masks to warmer skin, the product will absorb better.  Once applied, you can wait as long as your patience allows.  I kept mine on for about 15 minutes then removed it with warm water and most importantly, a warm, wet cloth.  It is not easy to remove with just your hands.  This is probably my least favorite part of this product. You will have to gently rub your face to remove all the excess remnants of orange rind and extract, but afterwards you are left with glowing, plump, and truly vibrant skin.
If you look at other reviews, you'll find that some people simply didn't notice a change in their skin after using this product.  All skin is different and will react differently to this product.  It's all a matter of preference and knowing your skin.  My advice is to go to Sephora, or anywhere you can get your hands on free samples, and ask for a sample before spending a good portion of your paycheck.  If you love it, see if you can get any deals like I did on larger sample sizes.  As for me, I will be purchasing the full size after this deluxe sample is gone, though I may not be able to stop myself from cringing at the checkout.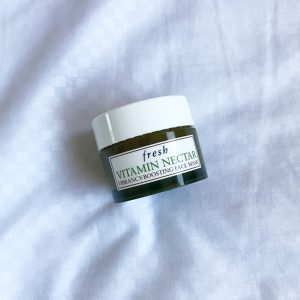 For more information about Fresh's products, visit their website:
Want to see more reviews on other Fresh products, let me know!
BY ANNA POLLOCK