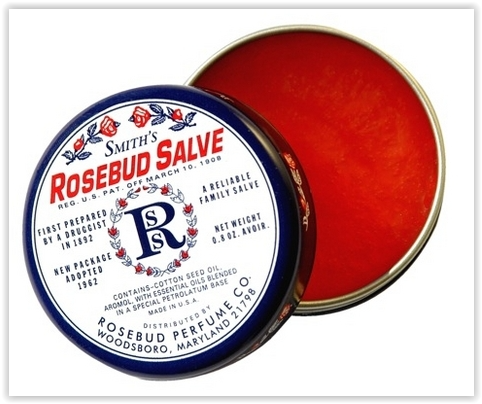 Today I'm reviewing a beauty product that I would consider one of my essentials!  Smith's Rosebud Salve.
When I lived in Los Angeles, at least for the last couple of months, humidity was my friend. It kept my skin and lips moisturized.  Now that I have relocated to the Midwest, the humidity has dropped almost fifty percentage points.  My lips are in a constant state of being chapped and dry. Smith's Rosebud Salve has been an absolute life-saver!
I've been using this salve for about four years and it has stuck with me through two moves. I always have to know where it is because it's that important.  When I first purchased Smith's Rosebud Salve, I liked it because it smelled of roses and it reminded me of my grandma, but then I saw that I could use it in so many ways: as a lip balm, a glossy highlight on eyelids or cheek bones, and it can be used as a salve for intensely dry patches of skin such as your elbows, knuckles, or knees.  My favorite obscure place to put it is on the skin that connects my thumbs and pointer finger because my hands get so dry there.  Does that happen to anyone else?
This salve has been around forever and it has some pretty high ratings on the Sephora and Ulta websites.  My guess as to why the product is so popular is that the ingredients list is so short and understandable. It is made with surgical grade, pure, white petroleum, cotton seed oil, and a secret recipe of essential oils and botanicals.  Pretty simple and very effective!
Another great thing about Smith's Rosebud Salve is how many options they have for tints and scents.  I own their Original and Rose & Mandarin and love both of them equally.  The mandarin one is great for the summer as it has a pleasant citrus scent.  Also, some formulas come in tubes if you want to be a bit more sanitary with the application.  The tubes would be good for someone planning on sharing, such as a makeup artist.
In the multiple years I've used Smith's Rosebud Salve, I have only had to repurchase it once and that was so I could keep one on my person and one by my bed stand at all times.  It last forever.  I'm still working on my original I bought four years ago.  Have you ever had any other lip balm last that long? I have not.  Also, at less than $8, for its utility and effectiveness, it's a steal!
Smith's Rosebud Salve by Rosebud Perfume Company.  Price $7.54 on Amazon.com.  Buy it HERE!
Do you have any products you'd like to see me review? Let me know here! 
To view other products from Smiths, check out their website.