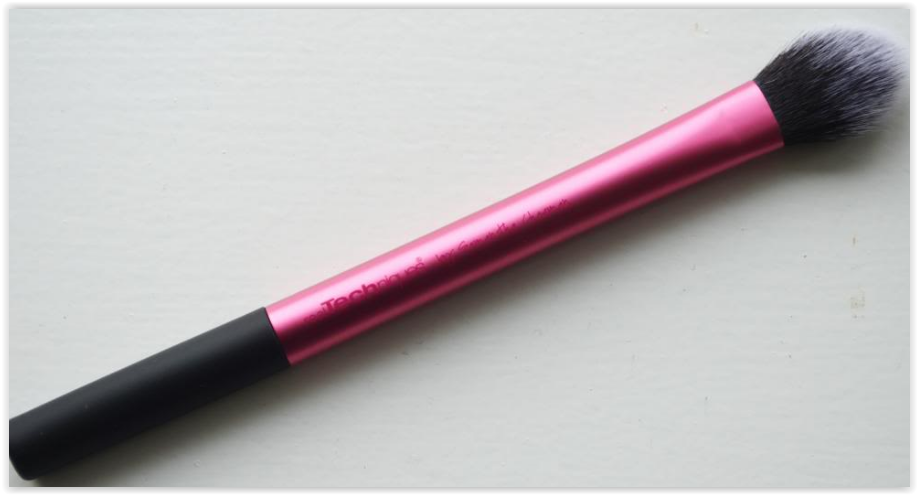 Boy, do I have a multi-tasking beauty product for you!  This week on Anna Dives Deep, I'm going to be talking about the Setting Brush from the UK-based company, Real Techniques by Sam & Nic.  This is a bit of a shift from talking about a makeup or skincare product that actually goes on your skin, but having the right tool for application is just as important as the product itself.
First of all, this brush will not break the bank.  Real Techniques brushes range from $7-$21 and are 100% cruelty-free.  This means that the hair in the brushes is synthetic for easier cleaning than natural hair brushes.  They have won awards for their brushes including Allure's Best of Beauty Award in 2015.  All in all, they have proven to be an affordable makeup brush brand while still making quality products.  
Now that I've written a script for a QVC Infomercial, let me get to the actual brush I am reviewing.  On the Real Techniques website, they state that this brush can be used for setting powders or applying highlights.  Both of these statements are true, but there are tons of other ways that this brush can be used.  It is the perfect size and shape for setting powders right under the eye to minimize creasing and shifting of the product.  Since highlighting is still on track to be a trend in 2017, this brush gives you to laser sharp application to the tops of your cheekbones, tip of your nose, and cupids bow for that blinding glow from illuminating powders.  It even works with pressed cream highlighters!
My favorite way to use this brush, and the reason I have more than one in my collection, is to apply base color eye shadows to my eyelid.  It is the perfect softness, shape, and texture to give me control where the shadow goes, while allowing a quick application of an all-over shadow.  This is by far my most used brush in my makeup bag and a definite essential for anyone looking to any makeup brush collection, big or small!
I like this brush. Perhaps you'll like it too. Let me know if you have tried this brush brand and are getting the same crush on it that I am.
Where to find: Amazon also at Ulta,  RealTechniques.com.
Follow Anna Pollock at @annarbpollock on Instagram.