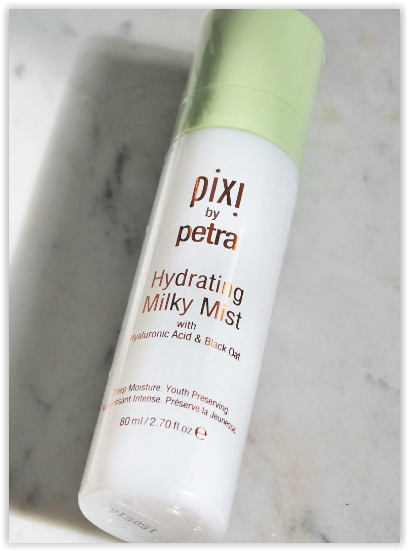 This week I'm reviewing the Pixi Hydrating Milky Mist.  If you're not familiar with Pixi, it is a London-based brand that was created by skin expert Petra Strand a little over ten years ago.  The brand focuses on "easy skincare" that transforms tired skin with minimal fussing.   It's available at many U.S. retailers like Target and on Amazon.com.  Let's find out if it's any good! 
Though Pixi has many different mists in their skincare collection, the Milky Mist caught my attention first since I wanted something easy to apply that would still give my skin a little bit of moisture.  The mist is fine and the spray comes out evenly to coat your entire face with a very lightly scented dew.  For the price which is around $15, I think it's a perfect way to quickly hydrate the skin on-the-go.
My favorite way to use this is to spritz my face right after washing and right before applying makeup to it.  On days where I'm feeling a bit dry, I will put this under a more creamy face moisturizer to give my skin more hydration.   I recommended this product to a friend of mine not too long ago, and they love using this right before bed as a one last hydrating step before the dry air of the night can wreak havoc on skin.
Another great way to use this product is to give your skin a cooling boost of hydration after a workout.  This mist also works great as a way to wet an eyeshadow brush to apply shimmery or duo-chrome shadows to enhance colors and pigmentation.  All-in-all, this product is versatile, quick, good for your skin, and can be found or ordered easily – all things that are pros in my book!
I'm excited to see what other products this brand has to offer!  I've been using their Glow Tonic as well and I have great things to say about it.  Let me know if you'd like to see more reviews from Pixi products!
You can find this product HERE.
BY: ANNA POLLOCK