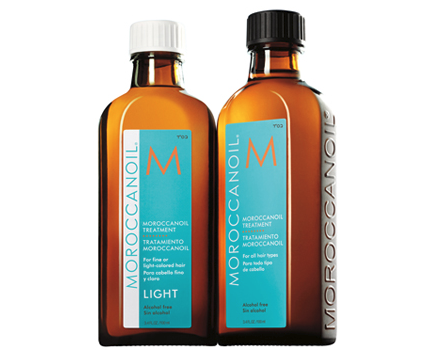 Have you ever liked the smell of a product almost more than the product itself?  I have to admit I enjoy the smell of Moroccanoil Treatment Original so much that sometimes it makes me buy way more than I actually need.  I can't get enough of the smell!  And, it's a high quality hair treatment oil to boot.
I know hair oils can be intimidating to some.  If you have oily hair, this product might not be something you think you need.  However, I think this treatment is for anybody seeking smoother, softer hair.
I have hair with a bit of texture. I have always had curls which I usually hold back in a bun to keep out of the way.  Frizz is not my friend and hair oil is one of the best products I've discovered that combats the dryness and dullness that comes from the sun, heating tools, hairspray, and the dry air.  Moroccanoil states that this treatment oil is a nourishing formula that contains argan oil in a perfect balance with other high-performance ingredients to create an instantly absorbable, non-greasy formula that leaves hair smooth, conditioned and manageable.  I would have to agree with all of that!  The only problem is using too much. When that happens, my hair will feel heavy and won't sit right.
For my girls with thicker hair that can absorb a good amount of product without looking too overly oily (me!), hair oils will be your friend.  So, why does this oil smell so good?  Again, THE SMELL!  If you've purchased a Moroccanoil product before, you probably know what I'm talking about.  I haven't met a single person who doesn't like the smell.  It smells like vanilla, sarsaparilla, a hint of orange, and in the most elegant and fresh way possible, cream soda.  It oddly brings me down memory lane without being able to pinpoint exactly what memory I'm being reminded of.  Have I talked enough about the smell?  Because I love it!
Per the instructions, you can apply a small amount to damp or dry hair.  When I use this oil, I like to apply it right after the shower because that's when my hair tends to take in product well without feeling greasy or heavy.  But, on days where I feel my hair is just a bit too dry and frizzy, I will sometimes take a very tiny amount, rub it in my hands to disperse, and run along the ends of my hair.  It refreshes my hair on even the harshest of winter days.
To be candid, this hair oil is good, but the only reason I love it so much is the smell.  Will it be the only hair oil I ever use?  No.  But it's my favorite at the moment!
Do you use hair oils? Do you have a product that you only love because of the smell? Let me know!
Moroccanoil Treatment Original.  Price $7.54 on Amazon.com.  Buy it HERE!
Do you have any products you'd like to see me review? Let me know here! 
To view other products from Moroccanoil, check out their website.