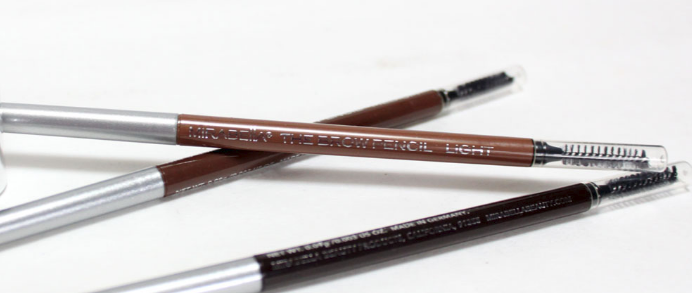 Mirabella is a beauty brand that seems to operate in the shadows right now.  Although I had heard of it, their The Brow Pencil was only recently brought to my attention after attending a beauty trade show.  Thank you, Ipsy!  This is the brow pencil for me now!  Love it!
The first thing I noticed about this product was how slender it was.  The tip is as thin as pencil lead which allows a very natural look when enhancing the volume of my brows.  I was nervous that the tip's width would cause breakage problems during application, but I had no problem with breaking tips.  The application is smooth, precise, and doesn't smudge or break into chunks on my brows.  While Auburn is the perfect color for me, there are many colors to choose from.  I really like this shade of auburn as it has a great combination of reds, greys and browns.
Another great thing about the Mirabella The Brow Pencil is the spoolie on the opposite end of the pencil.  Having a spoolie is now an industry standard for brow pencils.  The fact that this one is long and sleek – just like the pencil itself – helps with blending the color into my brow hairs to create a natural look. This little detail is what makes this an outstanding product.
One note of caution – the Mirabella The Brow Pencil is around $21 a pop.  It is priced as an attainable luxury beauty item.  Some consumers will need to find more cost conscious brow product for everyday use.  That being said, brow pencils are not cheap. For example, the Benefit Cosmetics Precisely My Brow cost around $24.  Other than having more colors to choose from, I like Mirabella The Brow Pencil more than the product offered by Benefit Cosmetics.
All in all, this brow pencil has been a staple in my everyday routine since earlier this year. It's long lasting, makes my brows look full, and opened me up to a new brand!  All great things in my book.
Mirabella Brow Pencil can be purchased HERE!
Do you have a product you'd like to see me review? Let me know!
To view other products from Mirabella, check out their website