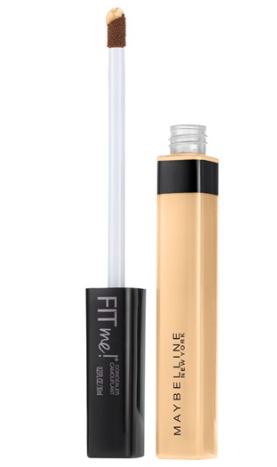 Big droopy, bags under our eyes.  We all get them at some point.  Mine came after drinking my weight in coffee for three years straight and not getting enough beauty sleep (I'm working on it!).  OK.  I have bags under my eyes.  I've come to terms with that and wear fact concealer.  After trying many different products, I have landed on Fit Me Concealer from Maybelline.
Right off the bat, I wish these concealers came in more colors.  I usually toggle between the 10 Light and 15 Fair shades and sometimes mix the two to get the perfect coloration for my skin tone.  Noting that my skin tone is not unique, I'm sure many users of this product feel the same way.  However, when I can get the shade right, this concealer is nearly perfect for me. One of my favorite YouTubers, KathleenLights, has raved about this concealer for about two years and is still calling it one of her ride or die drugstore products.  Maybelline is known for another concealer, Instant Age Rewind.  I like the Fit Me concealer more than the Instant Age Rewind because of the packaging.  The Fit Me concealer is in a tube with a doe-foot applicator, almost exactly like the ones I see in lip gloss applicators, and it fits perfectly in the corner of my under eye.
Along with the applicator, the formula is perfect for everyday use or going full glam.  It easily allows coverage, without feeling heavy or caked on.  It is so easy to blend I almost feel spoiled whenever I try other concealers that frustrate me because they won't blend out and look natural on the skin.  It's so easy to blend out, that in a pinch, I have blended it with my (clean!) fingers and it has been good to go.  It's a wonder for just that extra coverage to make your eyes appear brighter and more awake.
If I were to go full glam with this concealer, I would definitely recommend setting it with a powder, as it can sometimes crease after several hours.  As long as you set it, it will last you all day with minimal creasing – something not a lot of other concealers can do for me.  All of that utility and quality comes for under ten dollars and can be found at any drugstore, or online!  This is definitely my Holy Grail concealer for everyday use, and I don't plan on straying too far away from it.  As long as you can find your color, I highly recommend testing this out for yourself!
Maybelline FIT me! Concealer can be purchased on Amazon.com HERE!
Do you have a product you'd like to see me review? Let me know!
To view other products from Maybelline, check out their website.