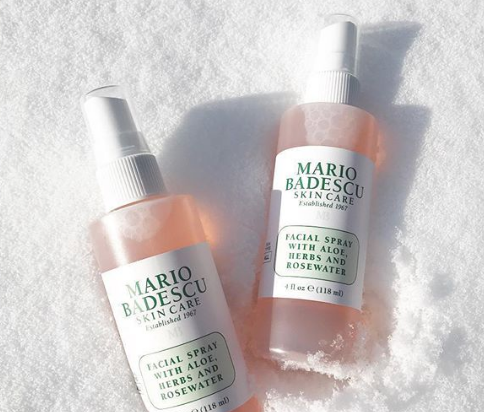 Alright…, I know I have another facial mist that I'm reviewing, but I wasn't lying when I said that skincare is my favorite thing to talk about!  This week I've been testing out the Facial Spray from Mario Badescu with Aloe, Herbs and Rosewater. It says right on the website that it is a "cult-favorite. Makeup artist must-have. Revitalizes with dewy radiance. Boosts moisture and glow." I would definitely say this is a cult-favorite with YouTubers raving about it and celebrities like Kylie Jenner declaring this an essential for travel, it's hard to believe this wouldn't be something that everyone wants to get their hands on.
If you remember my report on the Pixi Hydrating Milk Mist facial spray, I love facial sprays. They are a quick and easy way to moisturize the skin without taking too much time or energy.  Mario Badescu's facial mist is a bit different in a couple ways.  While Pixi's Hydrating Mist contains hyaluronic acid and linoleic acid to work as skin "restorers" or to soothe skin, Mario Badescu's facial mist is made with herbs and more natural ingredients to rejuvenate and re-energize skin. Both have different ingredients and both appear to do similar things – it's all about your skin type and what works best for it!  Personally, my skin feels much more hydrated from using the Pixi Hydrating Mist than using the Mario Badescu Facial Spray with Aloe, Herbs and Rosewater.
With that said, I probably will be purchasing this rosewater more often than the hydrating mist. Why?  Because of the price, the smell, and the packaging.  If you have tried your share of facial sprays, you know how it feels to have the perfect spritzer.  The mist sprays even and fine in an in a perfect amount, with even, pleasant application every time.  Unlike some sprays, this does feel lighter and not like someone just spit on your face.  Ewwww…
Since this product is a bit less hydrating than others, here's my favorite way of using it: I spray this all over after a good workout.  The smell is refreshing and the mist is cooling.  I also enjoy spraying this on my face after I moisturize to add just a smidge more moisture.  I don't love using this spray over makeup, since it doesn't do much other than make your face a bit moist or dewy which could cause you to inadvertently swipe off a spot of concealer or foundation if you touch your face after application.  It's a product that I will, like Kylie Jenner, probably take with me on a plane or on a long car ride because it is just that revitalizing.  To top it off, it's priced modestly and smells twice as nice.
Mario Badescu Facial Spray with Aloe, Herbs and Rosewater (8 oz.).  Price: $14 on Amazon.com.  Buy it HERE!
Do you have any products you'd like to see me review? Let me know here! 
To view other products from Mario Badescu, check out their website.