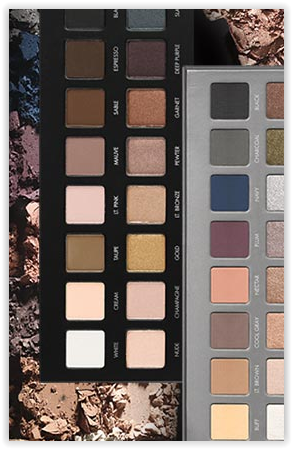 This week, I'm diving into an oldie, but goodie.  I tend to get the most excited about skincare, so when I found a makeup item that made me giddy like a 6 year old, I definitely felt the need to write about it!  I'm talking about the LORAC Pro Palette.  I'm not talking about the PRO Palette 2, or PRO Palette 3.  This is the review of  the original LORAC PRO Palette, that they nailed on the very first try.
This palette features 16 shades, 8 that are a matte finish, and 8 that are shimmer shades. The shimmery shadows are by no means glittery, but almost metallic.  The matte colors complement the shimmery shades well, which allows so many options to tweak the look to best fit your style and overall look.  The palette comes conveniently with a mirror and is made of heavy cardboard that stays shut with a magnet.
What's special about this palette?  First, these colors are extremely versatile.  If you're the kind of makeup user that doesn't want to rock a bright green eye look, or a neon pink eye shadow, this is definitely a palette that you'd enjoy.  All of the colors are neutral and simply elegant.  When I first looked at this palette, I was instantly inspired to go home and try out different "everyday looks" – those that allow me to mix it up while staying well within my comfort zone of work-life makeup balance.  Secondly, since the palette has an assortment of light base shades, mid-toned blending shades, and an intense black, it's perfect for travelling allowing you to create a multitude of looks wherever you go.  You can keep it light and natural, or smoke it out to a perfect nighttime look.
The third thing that makes this palette stand out is its quality formulations.  I don't know what eye shadows were supposed to blend like before this palette – it's just so easy to apply well.  Fair warning, these shadows do come with a bit of kick back, which means that the shadows are packed loosely.  There's good and bad with this. The good is that they blend so easily and the pigments are rich.  The negative is that there will be fall out, so the best way to combat this is to do your eye makeup before doing your foundation or concealer, as to not get eye shadow underneath your eyes… unless you like it underneath your eyes!
Obviously I love this palette.  LORAC's other PRO palettes have gotten a lot of hype online in the makeup community, but I haven't tried them out yet!  I am way too in love with this super OG palette!  
LORAC Pro Palette.  Price: $44 on Amazon.com.  Buy it HERE!
Do you have any products you'd like to see me review? Let me know here!
To view other products from LORAC, check out their website.