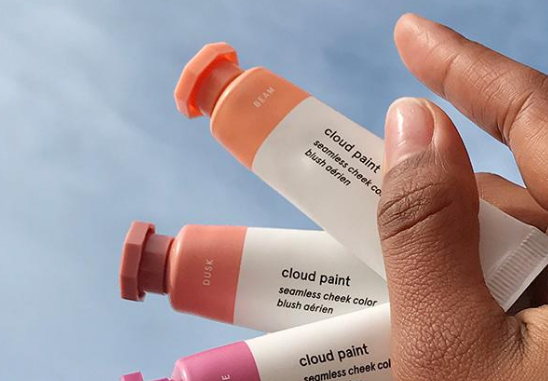 If you like make up, you've probably heard of the brand, Glossier.  If you've heard of Glossier, than you've probably heard of their new product, Cloud Paint.  It is a cream blush that is said to have a pillowy, gel-cream formula that will create a healthy flushed-from-within glow. It debuted on the Oscars Red Carpet as the source of Chrissy Teigen and Taraji P. Henson's glowy glow.
I always thought that powder blushes were "right" for me.  I assumed that because I set my foundation with powder, that I could only apply powder on top to make everything look put together.  I was wrong!  These cream blushes have opened my eyes to how easy they are to use.  I used two colors: Beam and Dusk.  Beam is a beautiful peach, while the Dusk shade is more of a mauve.  
All my worries of having splotched patches of pink or red on my cheeks faded once I started to blend these out with my fingers.  They look opaque and a bit intimidating at first, but blend out to a sheer coverage with just enough pigment to give your cheeks a pop of color.  You only have to use a small amount, which I love.  With a net weight of .33fl oz.  (per tube) they are easy to apply as well.
I placed a small dot on my fingers, rubbed them together, and then blotted and blended with my fingertips.  If you really don't want to use your fingers, I would recommend a beauty sponge or a dense brush.  Using a brush, you may have to use more product to compensate for the brush soaking up.  Beam was absolutely PERFECT for a light makeup or #nomakeupmakeup day.  I paired it with a touch of concealer and mascara for a an easy on-the-go look.  Dusk is a bit deeper and worked well with an evening look and heavier foundation and contouring.  I love the way it added a sultry glow to my skin.
Now that I have these two beautiful shades from Glossier, it makes me want to try out other cream blushes!  They go well with a full face of makeup, or a bare-faced look.  I completely recommend them and will be reaching for these often. Glossier Cloud Paint is is only available online.  Unfortunately, it is not more accessible for retail purchases. That's OK, because it's super easy to order and you get some cool stuff in the box. 
On a side note one of my favorite things about Glossier is their diversity of online videos. For this product they use multiple skin tones and Cloud Paint colors to show proper application across a spectrum of skin types. Brands only benefit from being more inclusive. Beauty comes in all shapes and colors.
Glossier Cloud Paint Gel-Cream Blush
Price: $18 + Shipping (free with orders over $30)
Where to get: Glossier.com
Do you have any products you'd like to see me review? Let me know here!
To view other products from Glossier, check out their website.