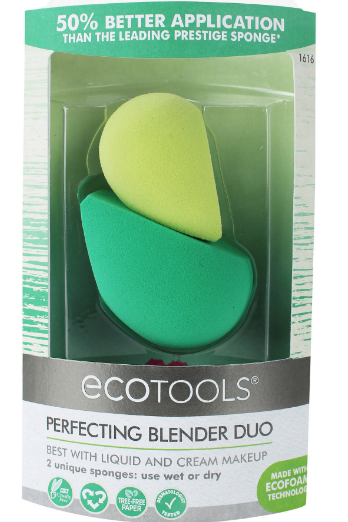 I know I start almost every article with: this is it!  This is my FAVORITE make up tool!  Get ready for THIS.  But honestly, I am so in love with this week's product that I want to say all those things again. This is it!  This is my FAVORITE beauty sponge!  Get ready for THIS.
I've hastily said before that my favorite beauty sponge is the Real Techniques Miracle Sponge. And at $6.99, I still love the price and the product.  However, since I tested my hand with the EcoTools Perfecting Blender Duo (priced at $9.99 for TWO sponges), I've had a change of heart.  EcoTools has perfected the dupe of the BeautyBlender  that all beauty gurus know and love, but sliced the cost in half.
The EcoTools Perfecting Blender sponge has the softest and bounciest application.  It can morph and squeeze into all the crevices around my nose and eyes with the pointed end. With the larger rounded end, it blends volume areas quickly and efficiently.  Since there are two sponges, the larger works great for the face and neck, and the smaller, lighter one is perfect for your eye area.  Additionally, the flat sides of the sponge are great for applying powder and setting your concealer.  Baking has never been easier and it's all thanks to EcoTools.
To conclude this raving review, I'll say that I definitely prefer sponges over brushes when it comes to blending out concealer and foundation.  These sponges are hands down my favorite sponges, and I promise that is not said in hast!  What's your favorite way to blend out your makeup?
EcoTools Perfecting Blender Duo can be purchased on Amazon.com HERE!
Do you have a product you'd like to see me review? Let me know!
To view other products from EcoTools, check out their website