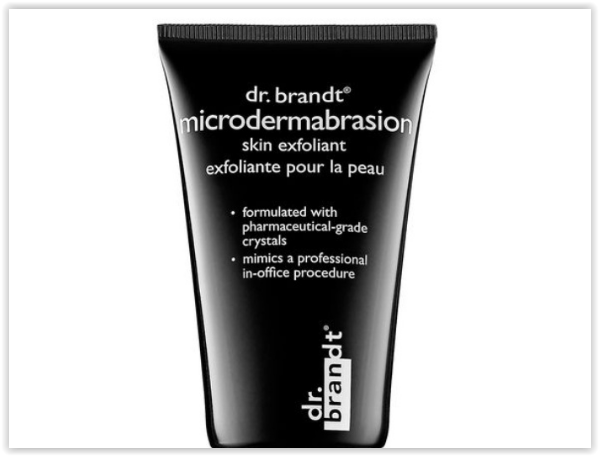 Once again, we are reviewing a high quality, luxury cost, face product.  Last month I raved about an expensive-but-totally-worth-it face mask, the Fresh Vitamin Nectar Vibrancy-Boosting Face Mask.  This week's product is also très coûteux, but I'll sound less of a fangirl in this review of the Dr. Brandt Microdermabrasion Exfoliator.
First off, what is microdermabrasion?  We can find some answers within the name itself. The micro prefix means that the exfoliating crystals in these products are much smaller than in your normal exfoliator which may contain larger beads.  The smaller (micro) size beads supposedly promotes smoother skin, a more even texture, and reduces the sight of pores, fine lines and wrinkles.
You can get a microderm facial treatment at your local day spa as non-chemical way to deeply exfoliate your skin.  Similar scrubs and cleansers with micro-abrasive qualities are microbeads, sugar, and salt.  A difference is in the application of this product.  A spa will usually use a motorized wand that continually streams the crystals over your face, while Dr. Brandt's is applied just like you would any other exfoliator.
I've been using this product for the past couple of weeks.  It is important to massage the product into the skin for a good two minutes.  The scent is fresh and even makes me feel like I'm at a spa while massaging it all over my face and slightly down my neck.  I use it just like any other exfoliator, but as stated on the website, it is recommended to only use once or twice a week due to the harshness it can have on your skin if used every day.
Dr. Brandt's Microdermabrasion Exfoliator is a quality product which works well.  I like it. However, it is not so much better than other, much cheaper alternatives.  It definitely made my skin smoother and over time a bit more even.  I was not expecting a miracle, but because the product is relatively expensive* I was expecting a little bit more.
Ultimately, this product is too similar to other exfoliators that cost a lot less. I think you'd be better served in purchasing a suitable exfoliator with smaller beads or crystals that is more cost conscious.
If you want to hear me review other outrageously priced products, let me know (HERE)!
For more of Dr. Brandt's products, visit their website.
BY: ANNA POLLOCK
* It should be noted that I received this product through a recent Boxycharm subscription box so I didn't pay full retail price for it.  Meaning, this product review is not colored by my profusely sweating credit card.