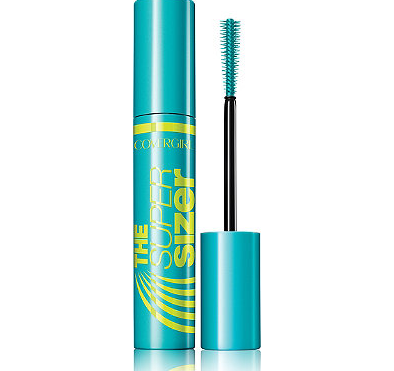 Mascara is something that has been in my makeup bag since day one.  When I was younger, it's all I would wear – gobs and gobs of mascara.
Nowadays, I try to be a bit more subtle.  With that said, mascara is still something I rarely leave the house without, and that's why I love the product I'm reviewing this week: it's cheap, it's mascara, and it works.
Many well-known YouTubers have raved about this mascara.  Tati Westbrook, and Cassie "Thrift Thick" have both created reviews that influenced me so much that I had to try it out for myself.  Though the packaging discouraged me a bit, I would recommend this product to people who want jet black lashes.  Honestly, this is the darkest mascara I've used in a while.  The packaging may be bright blue and obnoxious, but is worth the color statement on your dressing table.
What's different about this mascara, other than the pitch black formula, is the mascara wand. The end of the silicone wand is slightly flared, which allows the soft bristles to really get into the outside corners of my lashes.  This wand has really short bristles as well, and they help product get onto the wand and then onto your lashes.  Because of that, my lashes get an extra boost of volume that I just don't get with other mascaras.  With Super Sizer, it almost looks as though I have false lashes on when I don't – and that is a coveted honor for only the best of the best mascaras.  The kicker is, you can find this mascara, usually for under $10, at your nearest drugstore or Ulta Beauty ($6.99).  CoverGirl has just been killing it lately.  Win, win, double win.
Of course, all the good has to come with a little bad, right?  This mascara is messy.  I usually have to clean up around my eyes with a cotton swab because I can never get it right on the first time.  It takes a couple tries to get it right and unfortunately we all want to spend more time sleeping in the morning than putting on makeup.  At least I do!
In summary, this is a very good mascara.  I have been using it daily for a couple months now with no need to even search for another.  I have had friends try it who say they love it, and if you're looking for a mascara that will make your lashes pitch black and fuller than ever, I think you'll enjoy this product.
CoverGirl SuperSizer Mascara in Very Black can be purchased on Amazon.com HERE!
Do you have a product you'd like to see me review? Let me know!
To view other products from CoverGirl, check out their website.