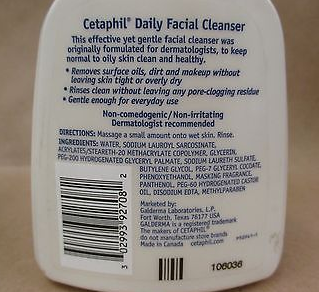 Skincare is my favorite type of beauty product.  I love taking care of my skin and have a passion for great skincare products.  Sometimes, we forget to go back to the basics when taking care of our skin.  One of my basic skincare products, for a long time now, is Cetaphil's Daily Facial Cleanser.
My favorite part of my daily beauty routine is washing my face.  Cetaphil has always been a brand that I've trusted.  Brutal winters and naturally dry hands turned me on to Cetaphil's moisturizing lotion which is a product that my mom recommended. That recommendation turned me on to their other products, particularly their facial products.
Cetaphil's Daily Facial Cleanser is an all-purpose product and truly for daily use.  It says so right on the bottle!  Obviously there are many skin types, ranging from sensitive, to dry, to oily to plain old problematic.  If you have neutral skin like I do, this is a great product. It scrubs well and has a pleasant scent.  I love the fact that it isn't overly sudsy so that it feels gentle and non-striping of natural (and healthy) facial oils.  In addition, the product comes in a handy pump container and it's reasonably prices for a large sized bottle.  It's no wonder that Cetaphil continues to be a well-regarded skincare product.
I used to be a bit of a face wash junkie in high school, trying every cleanser promising magically clear my skin or give me a radiant glow.  Sometimes you just need to go back to the basics, like Cetaphil's Daily Facial Cleanser.  I use it almost every day now.
Cetaphil Daily Facial Cleanser can be purchased on Amazon.com HERE!
Do you have a product you'd like to see me review? Let me know!
To view other products from Cetaphil, check out their website