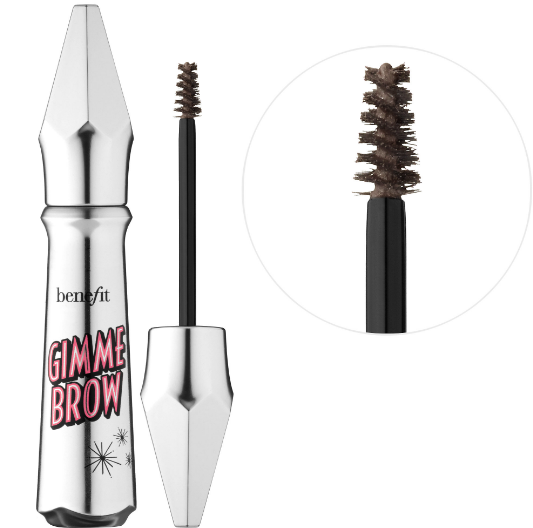 I have a beauty product admission to make.  I value products that allow me to get the maximum amount of sleep in the morning!  I like time saving makeup efficiency married with quality of product.  That's the prize!  This week's product is no exception.  Although I was blessed with a full and thick head of hair, my eyebrows didn't quite get the memo, and that's why I love the Gimme Brow from Benefit Cosmetics.
If you're not familiar with Benefit, or their brow products, they are known for helping us all out with the thick and full brow trend that's been around for a couple years now.  Gimme Brow is similar to a mascara for your brows, with a short bristle wand that allows perfect distribution of a gel-like pomade inside a tube, to fill in eyebrows and place color on each individual strand of hair.  Benefit has three shades in this line, 01 Light, 03 Medium, and 05 Deep. And after that, I hope you're thinking, that's not a lot to choose from, and I agree. But, those three shades seem to do it for a lot of people, seeing as they have over a 4-star rating with almost 3,000 reviews on Sephora.com.
One of the reasons I fell in love with Gimme Brow is the fact that this gel is water-resistant.  So when the sweat of the day shows itself, your eyebrows won't rub off your face or disappear completely.  That's kind of important, ladies.   And if you're like me, you are still working on the whole, "don't touch your face" thing.  I love that I can put this product on in the morning (in thirty seconds flat) and not have to worry the rest of the day whether my eyebrows still exist.
Benefit is one of my favorite brands with wonderful products for the entire face, but this one caught my attention early on and I am so glad for it.
Benefit Cosmetics Gimme Brow can be purchased on Amazon.com HERE!
Do you have a product you'd like to see me review? Let me know!
To view other products from Benefit Cosmetics, check out their website.