Sometimes we want a lot.  Sometimes we want something special or different.  Sometimes we want it "all."  As consumers we have fickle tastes.  This is especially true when it comes to the world of beauty products.  What's hot today, may not be remotely interesting by the end of summer.  Brands come and go.
Throughout all of the cycles of consumerism (i.e., knowledge, lust/covet, jealousy, senseless chasing, purchase, guilt, usage, happiness/disappointment), there is one consistent consumer behavior.  VALUE.  Yes, no matter how trendy and cool you are, you probably like a good value.  Bang for the buck!
In the incredible cacophony of beauty subscription boxes, there is one box that stands above all others based upon value.  The Allure Beauty Thrills Box.  It is vast and deep – we mean it's actually a huge box compared to other beauty boxes!  You get a lot of products! Twenty one different products are included.  This box represents value, you squirrelly consumers!
The Allure Beauty Thrills Box isn't just about size of box and amount of products.  Most importantly these products are very usable.  Who among you doesn't want to (…need to…?) whiten your teeth, use quality shampoo and conditioner and take off your makeup without harsh chemicals?  All of these actions are possible with the quality products in the Allure Beauty Thrills Box.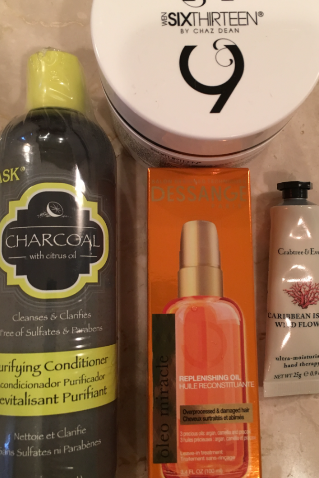 Some of the great products in the Allure Beauty Thrills Box include:
RIMMEL LONDON Moisture Renew Clear Lip Liner
BURT'S BEES Eye Makeup Remover Pad
HASK Charcoal Purifying Shampoo & Conditioner cleanses & clarifies
If we had one piece of advice for the Allure team, it would probably be to cut back on a couple of the products.  The one obvious standout would be to eliminate brands that have received bad reviews, or have had obvious chemical problems in the past – I'm looking at you Wen Sixthirteen body cream. Overall, the products are of good to very good quality and all from recognizable brands.
Listen, we love the beauty subscription boxes that give us little samplers of special products.  We do!  We really do like opening these boxes and feeling like we just uncovered a new beauty secret.  That's fun and exciting.  Of course, Brenda five doors down the street, also just got the same thing.  Thus, by definition the "beauty's out of the bag."  But hey, these are purely psych-consumer issues.
We do like to feel special and recognize that one of the difficulties with the Allure Beauty Thrills Box is that it doesn't feel exclusive.  There's nothing bespoke about it.  That's not the purpose however.  The purpose is value and quality products.  Based upon those criteria, the Allure Beauty Thrills Box is a home run.
In the final analysis, you can't compare the Allure Beauty Thrills Box to other beauty box subscriptions.  It's totally apples-to-oranges.  If you are looking for usable value in a beauty box subscription you ought to check out the Allure Beauty Thrills Box.
To contact LoveRealBeauty or suggest a product for us to review please click here.
Learn more about Allure and more about The Allure Beauty Thrills Box.
EDITORS NOTE: LoveRealBeauty was provided an Allure Beauty Thrills Box free of charge. We reviewed it objectively and on our own accord.  All opinions expressed herein are those of LoveRealBeauty.  LoveRealBeauty has no affiliate sales relationship with Allure and is not compensated by Allure in any way.