By day, Queenie Scherer (IG: XOXOVeganGirl) of Phoenix, Arizona, is a licensed engineer. But her passion is vegan body products. On the weekends, you can find Queenie and her co-founder at Pho
enix-area farmers markets, making and selling ahimsa Essentials – body butters, deodorants, scrubs, soaps, and oils – that use 5 ingredients or less. Her line is all certified vegan, cruelty-free, organic, all-natural, food-grade, sustainable, essential oil-based and handmade. This is Queenie's beauty story.
I really got interested in beauty when I made the best decision ever to go vegan 14 years ago. I started reading the ingredients "wall of text" with so many chemicals and preservatives in everything, including the top "natural" brands. If you shouldn't eat it, why apply all the toxins on the largest organ we have?  And how many ingredients should it take to moisturize or clean?
My company (IG: @ahimsaessentials) is named after the ahimsa principle, which is the root of our company: to cause no injury, to do no harm, in thoughts, words, or actions to self and others, including animals and our environment.
I am the original poster child of the #nomakeup movement!  If I am not feeling my best, I opt for a natural bronzer or lipstick for a little boost.  I can't believe I still have not tried faux lashes.  It seems like those are the new normal!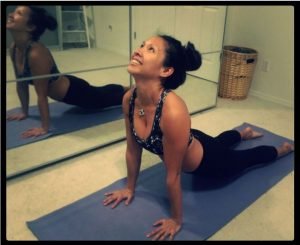 I believe in be-YOU-tiful.  I think beauty radiates inside and out when you feel good.  My minimalistic approach works for me because I am happy with my family, lifestyle, community, career, business, yoga and swimming.  Don't get me wrong, I have bad days and I get stressed out, but I always try to spread ahimsa – be kind to myself and everyone around me.
My beauty regimen includes drinking a lot of water throughout the day. My water goes everywhere with me with infusions with fruits, veggies, tinctures, or essential oils.  I exfoliate once a day using our 3-ingredient scrub which moisturizes and saves me time. I love that I can get dressed as soon as I get out of the shower.
My beauty icon is pro surfer Tia Blanco (IG: @Tiarah). She is a vegan and shares so many amazing recipes on IG: @TiasVeganKitchen.
Hands down, Rachel Brathen (IG: @yoga_girl) is my real beauty!  Ever since I came across her yoga video, The Shoulder Unfolder, my life is no longer complete without those 18 precious minutes.  She is a young yogi and shares such a positive vibe and natural beauty, keeping it candid during the toughest moments. It is rare to be so genuine, authentic and sharing all the time on Instagram, as well as in her book!
I couldn't live without essential oil for sure!  I love our Zen calming blend of lavender, mint, and citrus. It is grounding and helps me deal with stress and anxiety while smelling beautiful.  I love using it in conjunction with the diffuser bracelets I make because the aromatherapy really lasts for days!