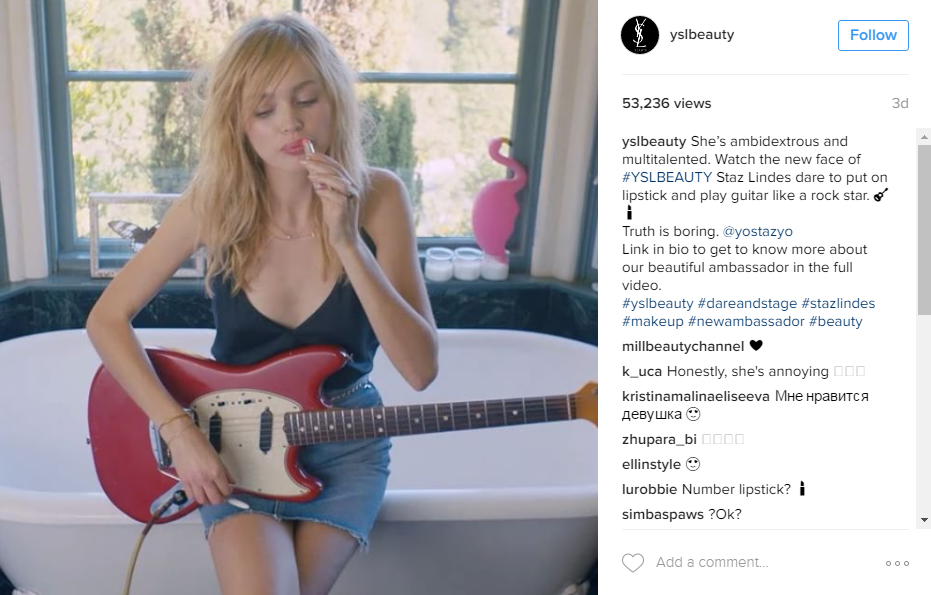 YSL Beauty's New Face, Staz Lindes, Is Ambidextrous
Why important/interesting: if you've ever tried to play the guitar holding lipstick in your fret-hand you (i) know what a virtuoso Ms. Linde must be; or, (ii) you recognize the ridiculous humor and staging in this Instagram post.  Both?  The real story is Hedi Slimane, not Staz Lindes.  Since she was introduced as the new face of YSL Beauty there has been much hand wringing inside YSL over the continuing influence of Mr. Slimane and how using one of his "muses" might just infuriate, denigrate, generally make very unhappy one Mr. Anthony Vaccarello, who just happens to be the CURRENT (not former) Creative Director at YSL.  Bon Dieu!
Caitlyn Jenner and MAC Team Up For Her Complete Collection (Paper Magazine)
Why important/interesting: it was only a matter of time before a beauty brand hooked up with Caitlyn Jenner.  MAC took the plunge earlier this year with a limited release.  Now MAC has released the Caitlyn Jenner x MAC Collection.  It is a multi-piece collection with several lip and eye products in varying shades and colors.  Here's the really fun part… this just started a makeup war between the Jenners and the Kardashians.  We think the Jenners will win.  Stay tuned.  When will Kanye's collection come out?
Onomie Bridges The Gap Between Skincare And Cosmetics (Forbes)
Why important/interesting: kudos to Onomie for creating products that are good for your skin, whether classified as makeup or a traditional skincare product.  There is strong evidence that a lot of makeup is not (NOT!) good for you.  When brands add a healthy element to traditional beauty products it's a win-win.  However, some claims of medical or cosmetic benefits are highly dubious and consumers should prefer brands that have a track record of transparency.  Don't buy snake oil, no matter how well it is marketed.
Don't Use Crayons For Makeup (Dallas News)
Why important/interesting: we are seriously scratching our heads.  Yes, we've heard of homemade makeup.  Sure.  We've also had to drink our friend's disgusting home made beer.  But, melt your crayons – actual crayons – and then mix with coconut oil to make lipstick?  (cease head scratching, start head shaking…).  We have many adjectives and adverbs to distribute (i.e., scream), but we'll just quote the story: "Brands such as Crayola have issued warnings in light of the Instagram videos. 'Although our products are nontoxic, we do not recommend using them to make eyeliner, lipstick or other makeup and strongly discourage their use in this manner…They are not designed, tested or approved for this use.'"
The Crayola For Clinique Collab (Allure)
Why important/interesting: and you thought we were done pontificating about crayons!  Now the actual thing – Clinique has teamed up with Crayola to create lip balms that look like crayons and use Crayola colors.  Ostensibly, Clinique does not melt actual crayons to create these lip balms.  Also, rumor has it that the absolutely disgusting crayon smell is nowhere to be found.  We like it.  Maybe Sharpie will team up with a brand soon.  Imagine the slightly hallucinatory smells we could get out of that collaboration!
Maybelline Welcomes First Male Makeup Star (USA Today)
Why important/interesting: we view makeup as expression.  Although it has been traditionally associated with women or as a feminine thing, there is no reason why men can't wear makeup too.  You think Johnny Depp doesn't wear eyeliner?  Not to be insensitive, but maybe makeup should be for guys first and women second?  Again, not trying to be jerk-ish, but a lot of guys could use the makeup more than the gals.  We also think the choice of MannyMUA is a great fit for Maybelline.  He represents an expression of makeup that is just damn fun.  Maybe he's born with it?  Nah…, it's the makeup!
Gigi Hadid Goes Makeup Free (Lipstick)
Why important/interesting: this actually angers us.  It's fiction, just like Gigi's highly curated Instagram life.  These #nomakeup pictures of Gigi look like they use filters and who the heck knows if she is actually makeup free.  The #nomakeup movement should not be hijacked by a celebrity suspiciously claiming it for a moment in time, and probably for publicity rather than affirming an empowerment movement.  From high on our horse, we say #nomakeup isn't something that should be cheapened by a suspicious Gigi Hadid photo.