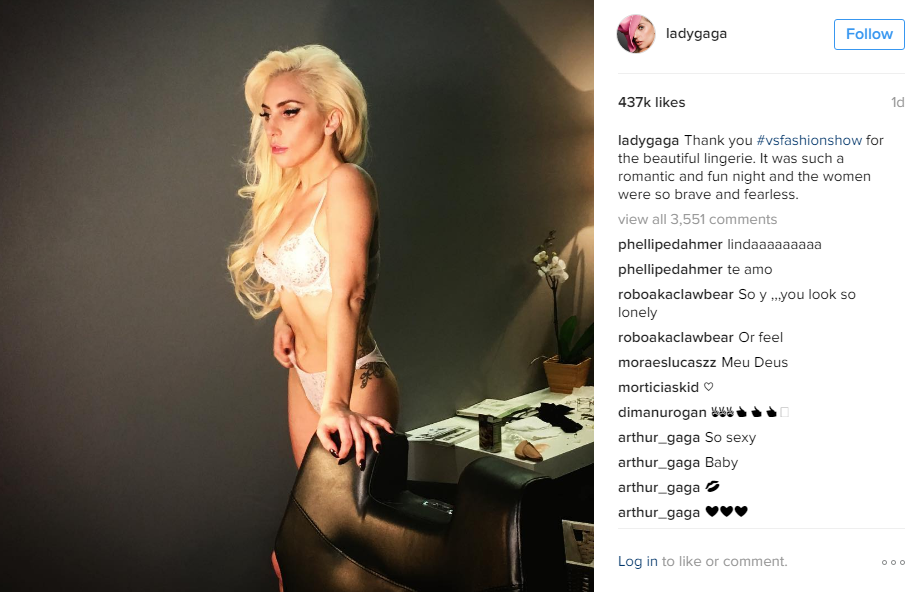 Stefani Joanne Angelina Germanotta is pretty much a Victoria's Secret "Angel" (Instagram, click above.)
Why important/interesting: 'cause it's Lady Gaga so by definition it must be interesting!?  Oh and, it kind of looks like Gaga could be doing the modeling all by herself.  Meaning, there is definitely been a body transition for Gaga.  We hope it's not just about looking good, but also about feeling good.  We also wrote about that here: Founder's Note On VS Fashion Show.
The 2017 Pirelli Calendar is #NoMakeup (NY Magazine)
Why important/interesting: the Pirelli calendar has been a wee bit "vivace" (or, in English, plain old "scandalous") due to their clothing optional policy.  This year makeup is optional.  That's kind of a big switch for Pirelli to go #nomakeup!  But the fun doesn't stop there.  The real showstopper is that the models in this year's Pirelli Calendar are none other than the likes of Nicole Kidman, Julianne Moore, Uma Thurman and a bunch of other starlets who have all won Academy Awards.  And, like we say, they're not wearing any makeup.  Molto vivace!
Jessie J. Announces Collaboration with Make Up For Ever (Hollywood Life)
Why important/interesting: Make Up For Ever is a 30 year old brand that still maintains its freshness.  Choosing Jessie J. as their new spokeswoman/model/face is a good move.  She's a bit alternative and she will keep the spirit of the brand alive without lessening the glamour.  Well done, Make Up For Ever!
Instagram Face: Is it the End of Good Makeup? (New York Times)
Why important/interesting: the subject matter of this article is the entire reason for LoveRealBeauty.  It is an important article.  Read it.  "Social media 'absolutely perpetuates one aesthetic,' said Kevin James Bennett, a longtime makeup artist and advocate for his professional peers. 'It's like looking at a bunch of clones. They're Botoxed, filled and surgeried to look like Kim. I love how they all say, 'Just be you,' when they all look the same.'"  The NY Times also outlines the rumble between the Greasers and the Socs… er…, we mean between Instagram makeup stars and the professional class of MUAs.
Your Bra Insert is the Only Makeup Sponge You've Ever Needed (Cosmopolitan)
Why important/interesting: heck, the title in and of itself, makes this an interesting read.  In the end take care to wash that insert before you mistakenly apply makeup on in places that don't really, well.., normally, don't, need it.
Kylie Cosmetics is Getting Sued for Copyright Infringement (Popsugar)
Why important/interesting: whether copyright law includes the look of a makeup application is unsettled law.  But, we don't really think you're supposed take someone else's picture and then change the colors and bit and pass it off as your own.  Didn't have to go to law school to figure that one out.
Ulta Salon, Cosmetics & Fragrance, Inc. Beats Expectations With Record Sales Growth (Motley Fool)
Why important/interesting: helps confirm that the top-line (revenue) projections for the makeup, cosmetics and personal care industries continue to be strong.  Bottom line (profit) is still questionable however.