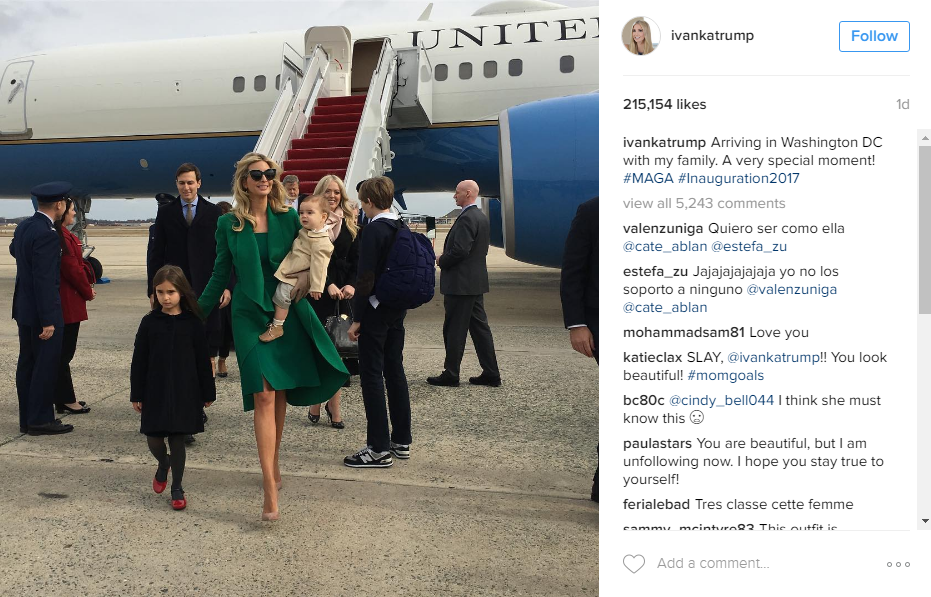 Ivanka Arrives in D.C.
Why important/interesting: the inauguration of the new president is always a spectacle.  This year the political amplifiers are turned up to volume 11.  Besides the donkeys vs. elephants, coy illusions of blame, and all the other fun parts of American politics, we got to witness an honest-to-goodness designer vs. first lady media spat in Melania vs. Tom Ford.  Fun!  Standing tall throughout the madness of the seasons has been Ivanka Trump.  That's not a political judgment.  However, one could proffer a thought for Ivanka in the larger sense – as in the tarmac photo, might be the mere beginnings of a much larger ambition for Ivanka.
Michelle Obama's Inauguration Day Makeup (Hollywood Life)
Why important/interesting: yup, sticking with politics.  Let's face it, Michelle Obama has brought a certain grace to the White House.  She's beautiful and has clearly relied on many talented makeup artists to perfect her looks over the past eight years.  We imagine today's ceremony might have been just a smidge uncomfy for Madame O.  So what!  She rocked a glowing cheekbones and high contour makeup look today.  A look good for giving glares, daggers and love!  Thank you for all of your inspirational hard work over the past eight years, Mrs. Obama!
Melania Trump Reveals First Lady Look (Vogue)
Why important/interesting: you guessed it!  We are still at the intersection of beauty and politics.  Again, we are not making any political judgments but Melania Trump looked beautiful today. Although it is robust hyperbole, here's what Vogue said: "Melania appeared to take a page from the White House beauty playbook by pulling her hair back from the face in a timelessly face-framing style and pairing the look with quietly polished makeup. The demure transformation heralds her formal transition from Manhattan power wife into the nation's First Lady."  Quietly polished, indeed!
Marla Maples & Tiffany Trump Want Free Hair, Makeup for Inauguration (The Wrap)
Why important/interesting: stuck in political mode today.  It's fun, right?  Bear with us.  This story is a good one.  As many of you undoubtedly know, even D list celebrities can trade influence for free products.  Just like we're not judging politics here, we're also not judging D list celebs.  They're a part of life.  It's at the intersection of politics, D listers, and freebies where a lot of weird and potentially bad stuff happens.  This episode was probably not all that bad, but someone might have told Marla-Tiffany that this kind of thing would be frowned upon.  The new prez is supposedly a billionaire many times over.  Maybe just ask him for a couple of Benjamins?
MAC Just Dropped The Coolest Collection (Refinery 29)
Why important/interesting: MAC makes great makeup.  They team up with some great causes and MUA's as well.  In this case, they are teaming up with three legendary makeup artists to create a new professional grade collection. Diane Kendal, James Kaliardos, and Kabuki, have collaborated with MAC for eyeshadow, lip and facial products.  Cool.  We can't wait to try these products.
Organic Cosmetics Market to Grow at 13% Until 2021 (MarketWatch)
Why important/interesting: actually, we find it fascinating that organic makeup will ONLY grow at 13% over the next five years.  Here's why – over the past year, many consumers (and some brands) have become acutely aware that cosmetic products are not regulated by the FDA.  That means manufacturers can put all kinds of nasty stuff in your cosmetics.  You like putting lead on your face?  You like putting toxins next to your eyes?  Please see this article: What's In My Cosmetics. Organics are coming bigly (see, we really are politics obsessed today).
The Milk Makeup Blur Stick Made My No-Makeup Makeup Dreams Come True (Glamour)
Why important/interesting: it's a stick and it comes in one color, but it works as well as your regular foundation.  That last sentence, in and of itself, should make this product interesting and valuable.  Most of us try to balance our makeup – big coverage for prime time events vs. #nomakeup for a school run, our best and pricey products for the all too infrequent night out vs. drugstore, get the job done, and I don't care vs. I have a huge zit on the middle of my forehead.  You get the picture.  This product is good for it all according to Glamour.  We shall see.