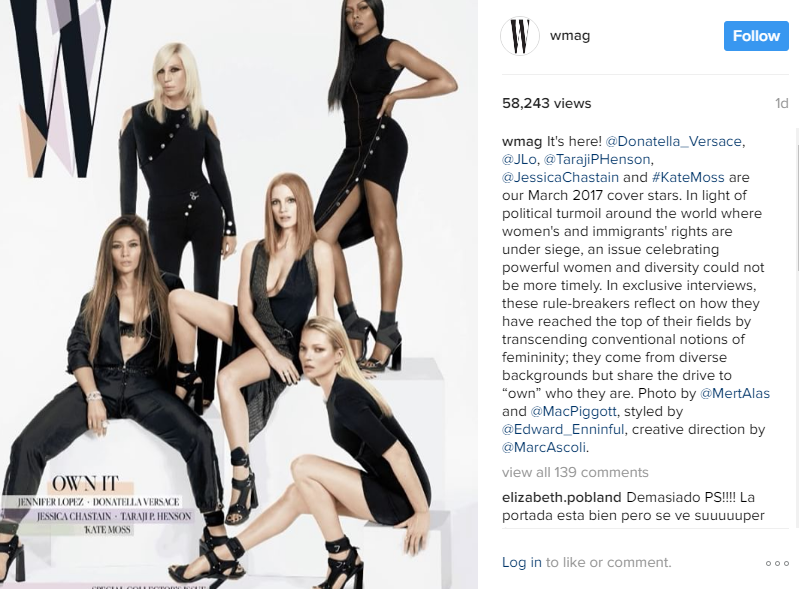 Own It!  (W Magazine)
Why important/interesting: let's be honest…, in the current environment virtually everything is politicized, including beauty.  We give props to W Magazine for taking a moment of collective societal angst and making it about something even larger – recognizing empowered women.  That's the entire ethos of LoveRealBeauty.  That's what we do at LoveRealBeauty.  But we do it differently.  We do it better.  We recognized the beauty of real women, not celebrities or models.  We tell the beauty stories of empowered, strong, real, beautiful women.  Toot!  That's our horn.
Lily Collins Pastes No Makeup Selfie (Teen Vogue)
Why important/interesting: no offense to Ms. Collins but the picture she posted was a ridiculously perfect, light-affected, possibly filtered, Instagram-ready photo.  I mean, c'mon!  Please, girl!  We know you are beautiful, but nothing is more annoying than trying to seem natural when in fact you are playing outside the rules of the #nomakeup game.  And, while we are preaching, shame on Teen Vogue for highlighting an attempt at a #nomakeup look that is clearly not without some adjustments.
Makeup Goddess Ve Neill On Face Off and Her Oscar-winning Career (Blastr)
Why important/interesting: one of the best shows on TV about makeup and its power of transformation is Face Off.  Check it out.  We are talking about real transformations and Ve Neill is as close as it gets to being on the cutting edge of makeup artistry – particularly in the world of sci-fi and fantasy.  She's even won an Oscar for her skills.  She's done the makeup for Mrs. Doubtfire, Pirates of the Caribbean, Beetlejuice to name just a few.  She know's makeup.
Women Are Applying Makeup On Their Thighs (New York Post)
Why important/interesting: well, duh!  Makeup can be applied virtually anywhere.  And these, as the Post describes are "more like lavish temporary tattoos than a way to blend or obscure skin discoloration or blemishes."  Beauty products lend themselves to all kinds of artistic uses.  Why not?
This Makeup Artist's Response To Internet Trolls Is Genius (Self)
Why important/interesting: makeup shaming is a real thing.  It's not cool.  If you like to wear makeup, we say WEAR MAKEUP YOUR OWN WAY.  If you like to push the boundaries, we think that's awesome.  MUA @agentsometime was being trolled.  So she simply went with it – she applied a clever eyelid stroke that simply read "nope."  Meaning, she wasn't going to be backed down by stupid internet trolls.  Go, go, go, girl!
The 4 Products Iskra Lawrence Uses For A Natural Makeup Look (Health)
Why important/interesting: Iskra Lawrence is a thing unto herself.  We mean that in the most positive way.  She's got the goods and she knows it.  Although we think it a bit cheeky to call her look "natural," it's good to see how one of the most popular, non-traditional bodies (i.e., not skinny as all hell), models of the day does her "quick makeup."  Here's a clue: it includes mascara and foundation.  Meh.
Please Stop Asking Me For Kardashian Eyebrows (Popsugar)
Why important/interesting: first off, this article by the talented makeup artist, Nicole Moleti, is hilarious.  This is how she describes the cultural ascension of the Kardashians: "suddenly a family of Armenian women were the hottest sex symbols and they had some things nobody else had: a sex tape, a stepfather who was a former Olympian, big butts and bold eyebrows."  All hilarity aside, it's her opinion that no or minimal makeup other than heavily done brows is "wrong" and freakishly so.