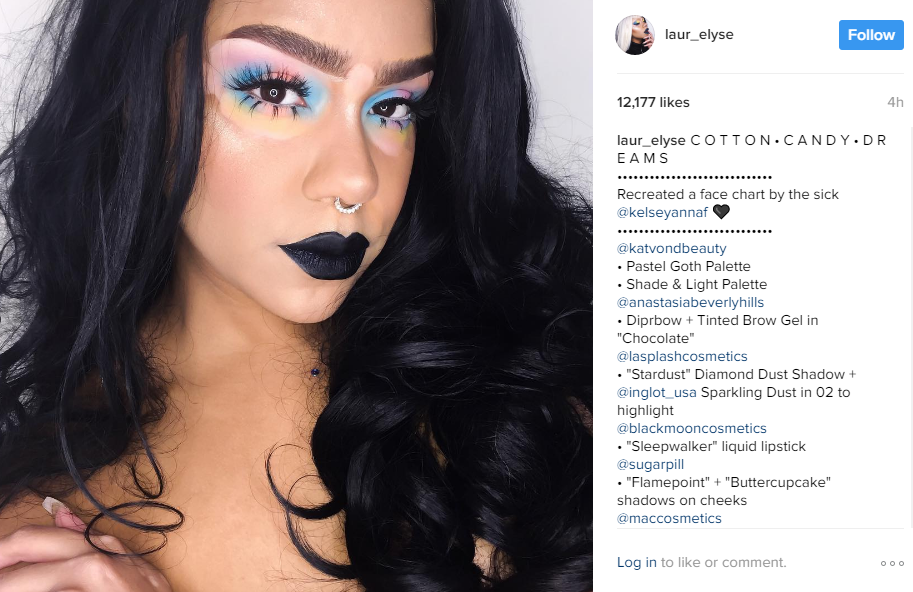 Cotton Candy Dreams 
Why important/interesting: 'cause…, we are deadly serious here about beauty, the concept of self, empowerment and being your best, most awesome, zen self.  Yet, makeup can transform and it can (CAN!) be fun.  Just plain old fun.  This week we were pretty amped up for International Women's Day and #BeBoldForChange.  We love to help tell your beauty story to help empower you.  Likewise, we also love this "cotton candy dreams" application by the wonderful @laur_elyse based off of work previously done by @kelseyannaf.  Makeup does equal fun (sometimes)!
L.A. PD Search For Thieves in $4.5 Million Makeup Heist (Fox News)
Why important/interesting: and you just throw your makeup all sad like into that disgusting drawer that you cleaned in 2009.  It's expensive!  Treat it as such. Apparently, these thieves have a serious thing for Anastasia Beverly Hills eye shadow.  We can't blame them.  We love it too!
26 Year Old Quadriplegic Woman Achieves Goal of Becoming Makeup Artist (People)
Why important/interesting: Holy good lord.  If you read one thing this weekend, read this story.  Let's talk about being grateful for a moment.  We're not here to preach but come on, most of us have it pretty darn good. Now for Steph Aiello, she's made it!  We salute and celebrate you Steph as you give us strength and inspiration.  Now we only hope we can get an appointment with you!  Rock on #MuaSteph!
Sam Fine Shares His Beauty Secrets (Hello Beautiful)
Why important/interesting: Sam Fine is damn fine!  When Sam talks, we listen.  His comments on #nomakeupmakeup are prescient and important.  Likewise, it is fascinating to hear how he originally got into the beauty industry upon moving to NYC at age 17.
Rejoice MAC Cosmetics Are Finally Coming To Ulta (Seventeen)
Why important/interesting: by the end of 2017, MAC plans to sell its products at 100 Ulta stores.  That's interesting as it will not be in Sephora at that time.  Also, the product offering at Ulta will be limited.  Still, it's MAC at Ulta.  Cool.
Here's How Much Bacteria Is On Your Makeup (BuzzFeed)
Why important/interesting: this is our favorite line from the article: "The makeup will contain your natural flora from your face, which is kind of like a germ fingerprint."  Ewww… whatever "natural flora" actually is (note: we thought that was lower down in female bodies).  Anyway, you put makeup on, you put bacteria on your makeup.  Then you reapply and you reapply bacteria.  The point is to not get super sloppy.  Wash your makeup applicators and your hands.  Common sense rules.
Tarte Just Dropped Its Own Unicorn Collection (Refinery 29)
Why important/interesting: as the article points out, unicorns are in.  Being the My Little Pony fan that we always have been, this is great news.  Alicorns the world over delight! This collection sounds of the moment with unicorn embossed emblems and very light and powdery colors.  Apparently, unicorns sell well, even in the world of makeup.