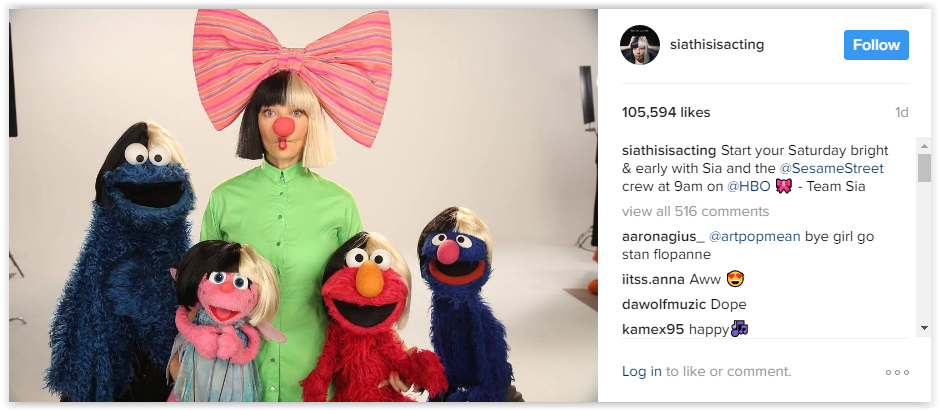 Get Back To Your True Friends (Sia's Instagram)
Why important/interesting: Sia is unmasked!  And, apparently by her own accord.  See the picture of her face at LAX airport (aghast!) and the accompanying article by Vogue languidly titled "No Wigs, No Masks, and No More Hiding: Sia Unmasks for an Athleisure Moment."  Wow, what a title!  As much as we love Sia and can now confirm that she is beautiful, with lovely, glowing, facial skin, even in sweatpants sticking to a beer-covered Delta lounge chair while munching on the gratis, gluten free, dairy free, pasta Alfredo (how is that even possible, Delta?), we prefer her en costume!  Especially, with some of our favorite characters.
Rihanna's Adorable Cousin Got Into Her Makeup (Time Magazine)
Why important/interesting: makeup is for experimentation, for fun, for making yourself look the way you want to look.  Apparently, in Rihanna's family it starts very early.  We have mixed feelings.  No, young girls should not wear makeup.  Yes, your 2 and 3 year old is going to notice mommy or sister or family applying makeup and try to copy.  Have fun. This is lighthearted stuff.
Makeup Can Give Transwomen Freedom – And Take It Away (Racked)
Why important/interesting: the tagline of this article is "damned if you do, damned if you don't" and that's definitely a more difficult concept for transgender women (and men who like to wear makeup).  This is an important article and we urge you to read it.  Not only does it touch on the identity crisis and underpinnings of the trans community, it also gets into the role that makeup can play in alleviating those issues.  That's an important role for makeup.  The conundrum is that by covering up, by using makeup, some transgender women feel they are covering up their true identity as well.  Also, this article does a decent job of explaining the "makeup expectations" that come with being a trans person. This is not lighthearted stuff.  This is important stuff.  Read it.
Genius Spring Makeup Tips (People Style)
Why important/interesting: Nick Barose is a really great makeup artist and he has a long list of celebrity clients.  He definitely helps set makeup trends.  His ideas for springtime makeup are to use a "relaxed look."  Using sheer liquid foundation and lightly tinted moisturizer is on his spring makeup to do list among other things (glosses, bright lip colors, etc).
Young Makeup Artist Gets Big Break (Everything Lubbock)
Why important/interesting: being a makeup artist, in one sense, is like many other jobs or professions.  You must sell a good or a service.  You might be the best makeup artist in the world – the most artistic MUA in your area – but, if you can't sell your service, you won't be an MUA for long.  It's nice to hear about a young MUA's "breaking through" and being rewarded for hard work (and being in the right place at the right time with the right connections).  This the story of Helena Roy who is the makeup artist for Raven Gates who was on The Bachelor.  She even got to fly out to Los Angeles!  Ohhh…, the city of angels!
Lauren Conrad: What's In My All-Natural Beauty Bag (US Weekly)
Why important/interesting: for three reasons… firstly, because a star like Lauren Conrad is acknowledging that natural makeup or organic or just generally not putting a bunch of crappy chemicals on your face and body is a good thing.  We concur.  Secondly, because Ms. Conrad does recommend some interesting natural products like Egyptian Magic Moisturizer.  Thirdly, because this is another article where a celebrity talks about "natural makeup" but then mistakes natural or "clean makeup" for products that are not actually natural, organic, clean or chemical free in any way.  We won't name names here, but you can see from Ms. Conrad's list that some of her preferred items are simply not natural.
Kat Von D. Calls Out Makeup Revolution (Teen Vogue)
Why important/interesting: this is another example of a drugstore or downmarket makeup manufacturer-brand being accused of copying.  Many makeup copying accusations have been made recently.  Even some of the large, celebrity brands (yes, I'm looking at you, family that names all of their daughters with a "K"), have been accused of outright copying the style, branding, packaging, and formulations of makeup.  Here's the thing, makeup as a general rule is not patented.  It's just not that proprietary.  Sure, some of the marketing is trademarked, but as a general matter, makeup is produced seasonally and most of the big brands do roughly the same things for most of their products.  Still, it appears that Makeup Revolution may face some bad press.  Also, don't get in a fight with Kat Von D., she's kind of a bad ass.  Step back, girl!