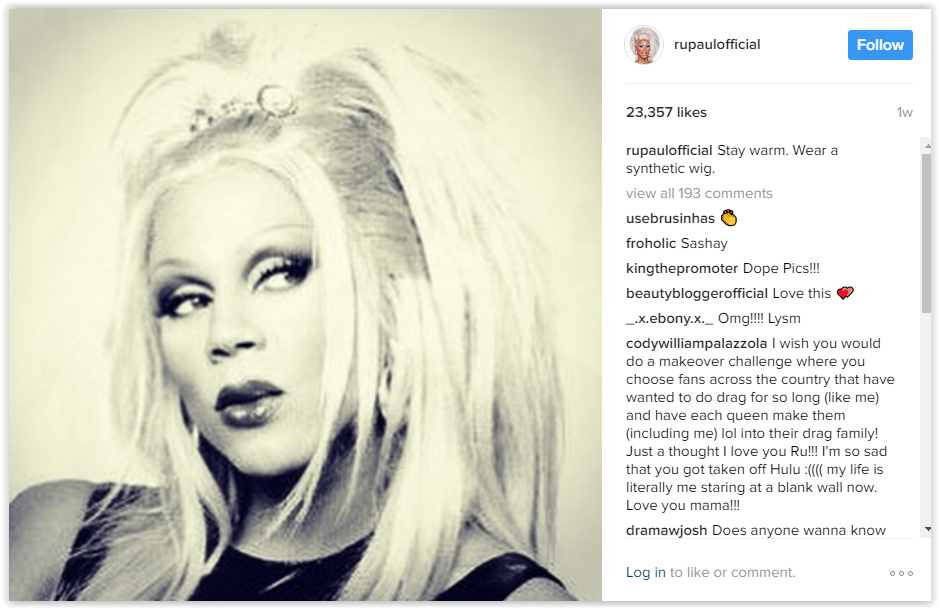 Stay Warm, Wear A Synthetic Wig (@rupaulofficial Instagram Account)
Why important/interesting: welp…, it was a tough week for the LBGT community.  We try to stay away from overt political commentary other than trying to offend both sides as much as possible.  But, let's admit it, the "bathroom issue" is being interpreted as having broader governmental-societal implications than a mere rule revision.  Leave it to RuPaul's Instagram account to give some spiritual humor.  Damn good idea if we say so ourselves.  Wigs are hot.  We mean like temperature hot.  Spicy hot.  Like RuPaul!  Hat out, wig on.
Here's Why Botox May Be Feminist After All (Allure)
Why important/interesting: great statistics in this article about how "attractive" women and men have different professional pay gaps.  People who take time to "put themselves together" for the workplace do tend to get the cookie and not the crumbs.  Meh.  So what?  The article goes on to make the logic leap that because it is more expensive for women to "look good" (again, whatever that is), that Botox is an equalizer.  Guys are bigger, they need more Botox.  Thus, they have to spend more if they want Botox.  Thus, that is a feminine equalizer?  And Allure, are you suggesting that women need Botox? Weird click bait article.
Spot On!  Tattoo Freckles (DailyMail)
Why important/interesting: let us summarize this article for you in a couple of words… "you are a freckle freak."  You NEED more freckles and it's a pain in the arse to create makeup freckles every day so you get them tattoo'd on your sweet face.  Because you're a freckle freak.  They're cute, they're freckles, they're tattoos, you're a freckle freak.
What Female Wrestlers Wear To Battle Sexism (Racked)
Why important/interesting: admittedly this article has very little to do with beauty, but it's a great and empowering read.  Although we never really gave much thought to the problem of side boob due to inadequate female grappling costumes, apparently it is a problem.  Problem solved.  New companies are making female wrestling clothes.  No more tapping out due to side boob.
How Celebrity Stylists Are Prepping For The Oscars (Motto)
Why important/interesting: if you are in makeup or fashion and based in SoCal, you know that this is your time to shine.  Celebrities have their time on Sunday, but right now it's all about high-end and celebrity makeup artists and stylists.  Want to know if you are part of the in-demand MUA crowd?  Easy.  Do you have an Oscar attending client shilling out the bucks to you this weekend?
YouCam Makeup App Becomes An Interactive Makeup Consultant (Yahoo! Finance)
Why important/interesting: with the boom in technology – specifically data analytics and neural computation – it's a wonder that we can't walk in to our local makeup retailer, stick our faces into a machine and voila!  Not yet anyway.  There are, however, new apps and analytical platforms that do take advantage of technology to recommend makeup and beauty products for your specific face.
Kanye West Is Low-Key Launching His Own Makeup Brand (Lipstick/Glamour)
Why important/interesting: WTF?  Serious, WTF?  Not saying that Master Kanye won't get this right, but this seems like a financial grab rather than a genuine "I know better than you (women) about makeup, I'm Kanye" moment.  Our guess is that the whole Kardashian clan shares the same business advisors and someone thought "hey, we are making a shit-ton of money on Kylie's makeup, Kardashian Makeup, and Khloe, and on and on and on, and why not fill the larder all the way to the top with Kanye makeup?" Yeah, that might be a reach.  Might.