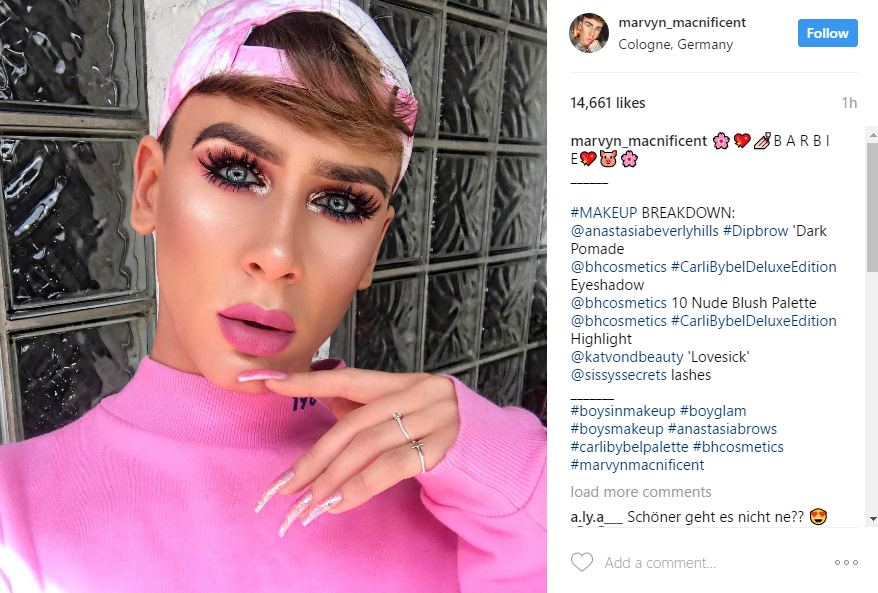 @marvyn_macnificent (Instagram)
Why important/interesting: why the hell not?  We aren't that familiar with Marvyn Macnificent, but heck, the guy can do makeup (on himself) pretty damn well.  Super shout out to the brows and as the comment says, "Schöner geht es nicht ne??" – meaning, more beautiful, it doesn't get, 'eh?  Nice work. We'd say it is Macnificent!
The Latest Beauty Trend Is Not Buying More Makeup (Racked)
Why important/interesting: the makeup and beauty industry is huge.  Bigly, huge.  $63 billion per year.  If the trend is for consumers to buy less makeup, that's bad for the industry on a macro level.  We kind of think this article is dumb, but it highlights the fact that makeup use may have reached a peak.  Sure, don't buy for the sake of having, of collecting.  Buy for use and quality.  #TalkMeOutOfIt!
7 Products You Should Never Spend More Than $10 On (Women's Health)
Why important/interesting: this is merely another way to say "best of the drugstore."  Yes, you can buy Tom Ford foundation for $90/bottle or the $20 variety at your pharmacy. They both play a role in a well-rounded makeup drawer.  Does Revlon mascara work well and cost less than $10?  Yes.  Duh.
There's No Escaping Makeup (The Guardian)
Why important/interesting: here comes the "wear special makeup to bed" trends.  On one level there is a sense that certain products could be restorative and good for your face and skin.  On another level, it sickens us to think that makeup manufacturers are preying on insecurities and suggesting that women should wear makeup to bed.  We are tending towards this latter sentiment.  Bad.  Poor.  Yuck.  Be your damned self.
Wet N Wild Launches Unicorn Makeup Collection (Elle)
Why important/interesting: we love My Little Pony as much as anyone else.  Pinkie Pie is hilarious, Applejack a hoot, and Twilight is such a clever clogs.  Enough with the unicorn makeup collections though.  We have no issue with adding all kinds of color to the human face.  Go nuts, put colors everywhere.  Do we need to incorporate the idea of unicorns, again?
Meet Liz Bagatelos, Master Makeup Artist (Sacramento Business Journal)
Why important/interesting: we love seeing local makeup artists profiled in regional publications.  We're not really sure how many MUA's get into the circumspect pages of teh SBJ, so it was good to see and read this local story.  MUA's work hard.  They run small businesses and we salute and support.  Go Liz!
Women Give Zero Fucks About What Men Think About Their Makeup (Allure)
Why important/interesting: love the title of the article.  It stands on its own.  No explanation needed.  Seriously, why take advice from a guy who has probably never worn makeup.  Here's the money quote: "I don't see why I'm being blamed for a man stupid enough to think that I have gold sparkly eyelids."