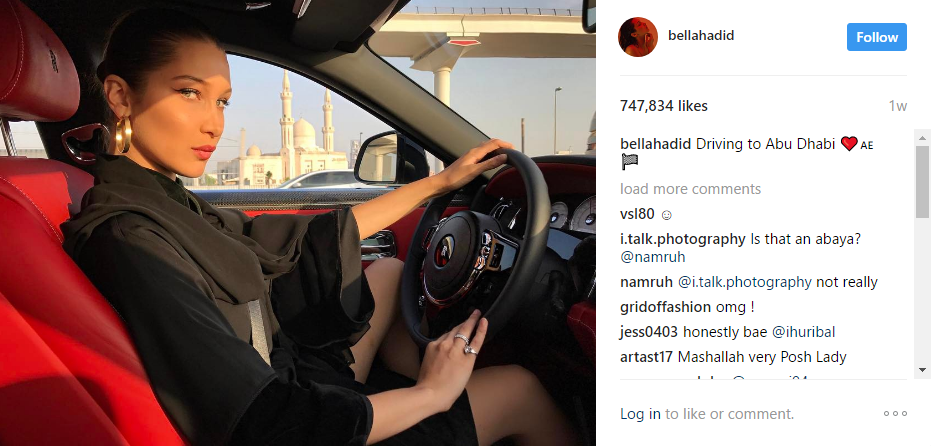 Bella Hadid "Drives" in AE (Bella Hadid)
Why important/interesting: come on now folks.  This picture pretty much sums up why we started LoveRealBeauty.com.  Please, like this picture doesn't represent some of the worst BS in fashion and beauty…?  Yes, it does.  We have nothing against Bella Hadid. She's probably a lovely young woman.  Her handlers are aggressively spreading her brand. However, there is just no damn way that she drove an Italian sports car, in that outfit in Abu Dhabi.  We recognize that the beauty and fashion industries petal fantasy, but this is the "stupidiest" of kinds.  Get a grip.  This should not be your aspiration.
Cleavage Makeup (Fox News)
Why important/interesting: serious?  We like trying new things and yes, when you have pimple or ugly spot on your decolletage, you can use makeup to cover it up.  Strobe effect for bigger boob effect is a whole different thing.  Our gut reaction is… bad.  Our thinking cap says that maybe there is a way to use makeup to amplify assets to prevent some plastic surgeries?  We have nothing against cosmetic procedures or boob makeup. Nothing.  Really.  Nothing.
Millie Bobby Brown Has Some Simple Makeup Tips (The Cut)
Why important/interesting: there has been some criticism about this article.  Namely because MBB is 13 years old and she's giving out makeup advice.  Oh, the courage of the prodigious progeny!  We think this is perfectly fine.  We could probably learn a thing or two.  The minute she starts to put on cleavage makeup to contour for bigger breasts, we are out though.
Teen's Mother Disowns Him For Wearing Makeup (Teen Vogue)
Why important/interesting: sad.  Probably some hyperbole here, but still sad.  We fully recognize that there is a gender association with makeup.  I mean, it's not like we have an orange colored president of the U.S. who wears makeup all the time in public.  Sad.  Sad to disown your kid for trying makeup.
A Perm And Color For Your Lashes? (Inforum)
Why important/interesting: imagine the possibilities!  You've always wanted to be a redhead, but never had time for that craziness.  Now you can be a redlashes (or whatever). Match the head, the brows and now the lashes.  Not so far fetched.  Our concern is really more about putting a bunch of suspect chemicals on your eyelashes.  That's the same as putting them in your eye.  Maybe you can dye your eyeballs too?
Disney Invented The Coolest New Makeup Technology (The Cut)
Why important/interesting: damn…, we like.  Stage makeup that is no longer makeup.  Like our neighbor's house this year at Christmas.  Those weren't actual light bulbs, they were merely lights projected on the house.  We're not sure how relevant this is to those not on a stage, but certainly it has some pretty cool implications for Hollywood.
The Art Of Makeup (My Republica)
Why important/interesting: although there are nuances to the rights/wrongs of makeup application, for beginners this list isn't all that bad.  It lists 8 things that GENERALLY provide for better makeup – both in application and in wearing.  This is fundamental so makeup artists are not going to be wowed by this.  There are no secrets here.  However, doing the fundamentals right is the best way to get the best look.