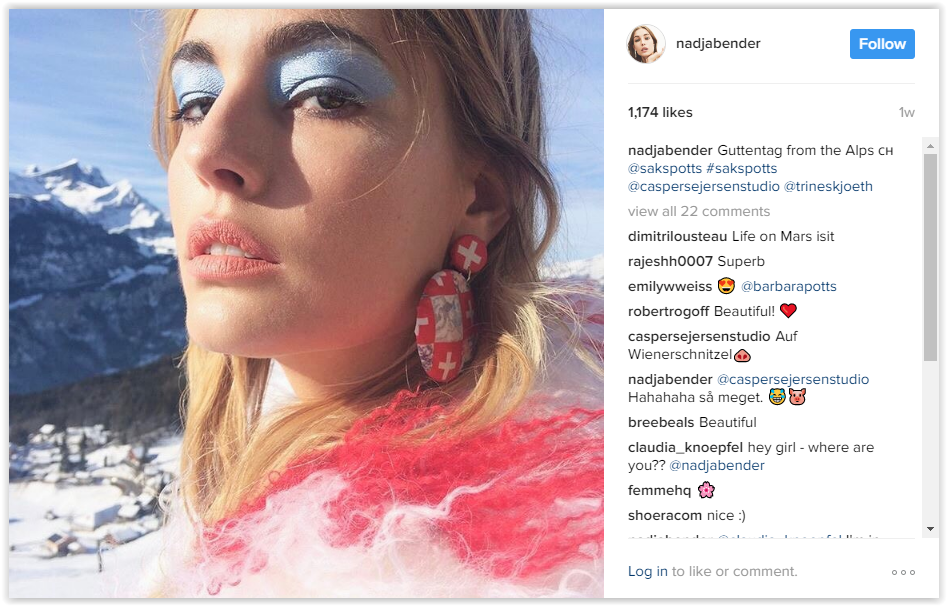 Guttentag From The Alps CH (Nadja Bender Instagram)
Why important/interesting: we've seen our fair share of crappy ski makeup, but this is not crappy (nor makeup?).  This is creativity to the max.  Who wants sunburned eyelids? Maybe even put this beautiful concoction on the cheekbones too.  This is what Nadja Bender probably learned while studying molecular sciences at Copenhagen University prior to becoming a model.  Plus points for the earrings.  We hear cowbells, yodeling and shushing as we look at this picture.
Anna Wintour On Fashion, Politics and Vogue (Wall Street Journal)
Why important/interesting: Vogue is the august voice of fashion journalism and Anna Wintour's grip seems pretty secure.  However, the article points out that traditional magazines, are loosing some of their readership to social media and blogs (i.e., blogs like LoveRealBeauty.com – yeah!).  We looooove Ms. Wintour and Vogue and this article is light on details, but good for the Journal to give some space to the larger beauty industry.
Use Star Makeup Stamps Like Pro MUA Violette (Allure)
Why important/interesting: we love creativity through makeup.  This definitely qualifies. Check out the pictures in the article.  Put a bunch of star stamps around your eyes and go to the club tonight.  That's creative, possibly brave.  And, when a serious MUA like Violette approves, it gives the idea some serious credibility, no matter how whimsical.
This 'Beauty and the Beast' Makeup Collection Is Amazing (and only in Italy) (Us Magazine)
Why important/interesting: everyone knows that Belle and Beast will soon be kissing at a movie theater near you.  Thank you Emma Watson!  Now the makeup.  Apparently, L'Oreal has decided to release an entire line of Beauty and the Beast inspired makeup.  Only in Italy.  What is that, L'Oreal marketing geniuses?  Is there some Italian Disney cult we are not aware of?  Why just in Italy?
In The Hair And Makeup Oscar Race (Variety)
Why important/interesting: this article is great.  It lays out the incredible effort and professionalism required to create studio quality makeup for major production films.  The article actually starts with "the artisans who transform our beloved characters..."  Stop right there.  The operative word here is "artisan."  Now, go read.
Condom Makeup: Creepy Or Ingenious (New York Post)
Why important/interesting: we highly recommend that you talk to your favorite makeup artist about his or her condom choices prior to…., the application of makeup.  What? Using condoms rather than brushes is how to get a better look, particularly to apply foundation evenly.  Remember that conversation though.  And ladies, make sure the condom seal has not been pierced already!
Teenager Excluded From School For Being Caked In Makeup (Metro UK)
Why important/interesting: dammit!  More makeup shaming?  OK, we get it that schools have standards and rules.  Crafting a makeup rule must be difficult because it is by definition so subjective.  Who exactly determines if a makeup level or look is too much? Does this school have a makeup artist on staff?  Expelling students without sufficient warning and doing so in public matter is definitive makeup shaming.  Dear expelled girl…, they're just jealous little administrators!