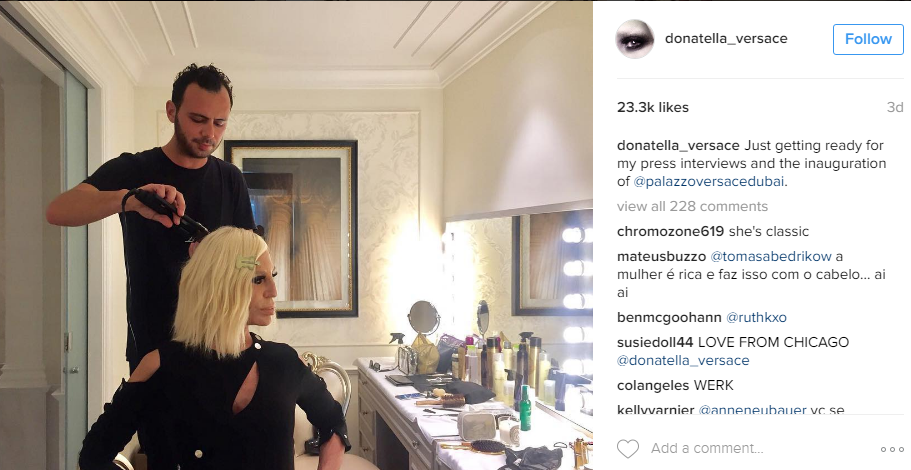 Versace Opens Her Palazzo Dubai (click on the picture above)
Why important/interesting: because it's Versace and it's traditional Italian and luxury.  They (Versace) do beauty just fine, even in Dubai.  Promise.
Jane Cosmetics Undergoes Complete Overhaul (Los Angeles Times)
Why important/interesting: because even though Jane is a straightforward brand, Patriarch Partners has committed to another round of financing.  This means that the smart money is still investing heavily in cosmetics. And Lynn Tilton has retooled over 240 companies in her career. Keep an eye on Jane Cosmetics!
FDA Explains Role in Keeping Cosmetics Safe (Daily Mail UK – video)
Why important/interesting: duh!  Seriously, duh!  Do you like putting steaming, burning chemicals around your eyes?
JWOWW Has Her Own Cosmetics Line (Yahoo! Beauty)
Why important/interesting: at first you think the takeaway is that minor celebrities = vanity makeup line.  Nope, not for Ms. Jenni Farley. What's more interesting is the focus on lip products.  Easier to manufacture, most wearable item, easiest to distinguish the celebrity personality with standout colors.
Kylie Jenner's Holiday Cosmetics Collection Is Here (Harper's Bazaar)
Why important/interesting: as the article points out, the scope and size of Kylie Jenner's "holiday collection" is quite large.  Oh, and, ICYMI, it's the holiday season now. Now.
Hillary Clinton Goes #NoMakeup For Speech (Slate)
Why important/interesting: if you're into the #nomakeup movement, you've just had your choice confirmed by the doyenne of Democratic politics. Not too shabby considering HRC might have wanted to hide some sleepless nights.
Priscilla Presley Reveals Elvis Never Saw Her Without Makeup On (New York Daily News)
Why important/interesting: we like makeup.  We do.  We love it.  LoveRealBeauty is all about your makeup stories.  As we say, #makeupyourway.  Stories like this one help us appreciate that we've come a long way, baby.
Have a good weekend,
Jill & Jeremy