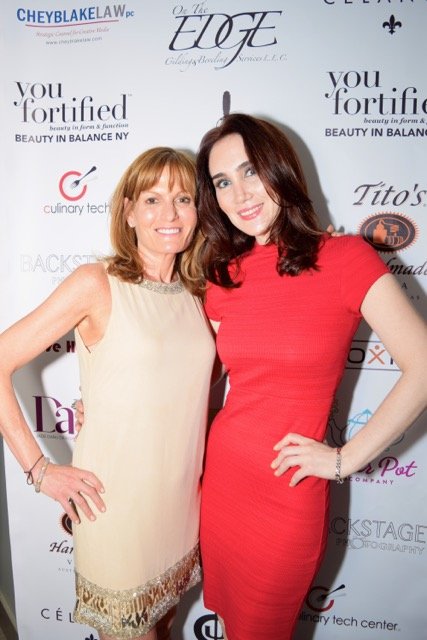 Daryn Mayer is a communications, marketing and brand expert that has years of experience working in omni-channel media. Daryn Mayer is a New Yorker by heart, originally growing up in Westchester County.  She's now applying the skills she learned in the trenches while working for the likes of Martha Stewart, Fox TV, and TV Guide to build her company you fortified.  As co-Founder of you fortified, Daryn Mayer brings a unique understanding to lifestyle content and the virtuous circle between consumers and brands.  This is the #IWASW beauty story of Daryn Mayer.
My first memories of the concept of beauty are owed to my mom.  She always tried to instill the fact that less is more and how important it is to look natural.  For instance, when my friends started wearing makeup like mascara, my mom took me to have my eyelashes died.  LOL!   As early as seven years old, I can remember her getting me into a routine of washing my face with soap, astringent, and using moisturizer in the morning and at night.   Also, my mom tried to raise me to eat healthily and to favor fruits and veggies over processed foods.
I think every woman should feel beautiful and treat other women the same way.  Being Beautiful starts from the inside and radiates outward.  If you feel beautiful, you feel confident and happy and that carries through to your personal and professional lives.  Beauty is also about maintenance and also maximizing your best features.  If you start young you'll have a good foundation to work with.  You can maintain your beauty over time with a little polishing and perfecting like facials and masks.  I take pride in taking care for my whole body and am very careful what I put on it and in it.
Over the years I let me hair grow longer and I started to wear longer earrings.  That look makes me feel sexier, youthful and radiant.  As the co-founder of you fortified, I get to try a lot of products.  I am a creature of habit and extremely picky but I have been more open to trying new beauty and fashion things lately.  However, if I find a something I love, I stick with it and share my secret with friends, family and followers.
I think the most beautiful person I know is actually my dog, Snoopy.  He is so handsome, sweet, loving and kind.  I adopted him from a rescue group last winter.  He really admires himself, I catch him checking himself out in the mirrors in my apartment!
My favorite products right now are from Mario Badescu.  I was introduced to Mario Badescu skin care by one of my mentors, Martha Stewart.  I love their products because they are botanical-based, simple, gentle and effective.  Plus they don't put a lot of money into packaging so what you see is really what you get.  And, I absolutely love their facials too!  In fact, if I could only wear one beauty product, it would be Mineral Liquid Powder Foundation from Mario Badescu.  I wear it alone everyday on the way to work out.
And that is our Interview with a Successful Woman featuring Daryn Mayer!